I know when winter arrives by the way my skin reacts. The dry, itchy feeling appears around my knuckles first. Then there's a crack beside my thumb nail that screams with pain anytime I bump my thumb. Peering in the mirror, I see the flaky skin on my cheeks. Yes, even here on the rainy "wet" coast, winter means dry air that causes damage to my skin. That's why winter skin care is so important.
Thankfully, Shoppers Drug Mart offers a wide selection of winter skin care products plus complimentary skin care consultations in-store. Over the years, I've tried a variety of products, looking for the perfect combination to keep my skin looking soft and smooth. Sometimes standing in the aisle perusing all the options can be a bit overwhelming. That's when it's handy to have specific recommendations about the best products for my skin type. This winter, I'm saying goodbye to winter skin woes!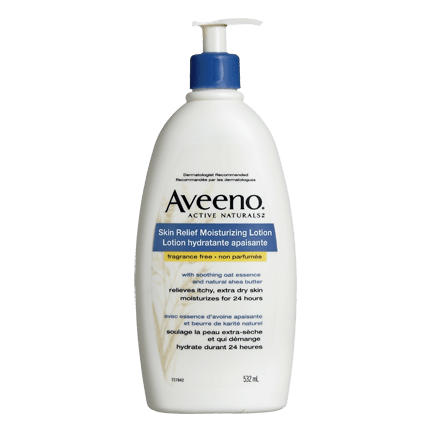 One of my favourite products is the Aveeno Skin Relief Fragrance Free Lotion. Aveeno is a name I can trust for both my skin and my girls' skin (Jade also suffers from dry skin). This thick, rich moisturizer rubs in quickly, leaving my skin feeling soft without being greasy. My husband dislikes strong fragrances, so whenever he sees me rubbing my hands, he gets a suspicious look on his face. With the Aveeno Skin Relief Fragrance Free Lotion, he doesn't need to worry.
It was actually my mother-in-law who introduced me to Aveeno products; she also suffers from dry skin and has tried a variety of different products, especially during winters in dry Alberta. When we were back there one Christmas, my skin was driving me crazy. I was moisturizing three times a day and it wasn't helping, until she gave me some of her lotion.
Don't suffer through dry, itchy skin this winter! Drop by your local Shoppers Drug Mart for a complimentary Skin Analysis. In-store Beauty Experts use a Moisture Checker to measure your skin's hydration level and a Video Microscope to magnify your skin's surface by 30 times to help diagnose your skin type. Based on the results, the Beauty Expert will recommend skin care products accordingly. That sounds much better to me than taking a guess at a lotion and finding out it doesn't help (but now I've got a full bottle left over!).
Plus, when you shop at Shoppers Drug Mart, you can earn Shoppers Optimum Points on participating skin care products! So reward yourself for taking care of your skin by getting points to spend! Sounds like a win-win to me.
Visit your local Shoppers Drug Mart to check out the assortment of skin care products, receive a complimentary beautyRx Skin Analysis and earn Shoppers Optimum Points on participating skin care products!
Do you find that your skin also needs extra care in the winter? What's your favourite winter skin care product?

Although this post has been generously sponsored by Shoppers Drug Mart, the opinions and language are my own, and in no way do they reflect Shoppers Drug Mart.