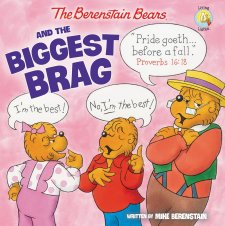 Bragging is either something learned very young or a foible of human nature, because I've already noticed Sunshine and Lily starting it. One will say, "I can run faster!" or "I can sing better." I've found that a story is often a great way to discuss things like this, and so I was happy to see the latest Berenstain Bears title.
Brother and Sister Bear are talented young cubs. They work hard at school, sports and fun and they're proud of what they can accomplish. But sometimes, they like to brag about what they've done, trying to best each other. Mama and Papa try to tell the cubs that this isn't very nice, but they don't really listen.
One afternoon, the cubs are outside watching clouds when they begin making up stories about what they see. Each has to create a better story than the other's, until their stories are wild and fantastical. Then Grizzly Gramps comes along, with a story of his own that finally makes the cubs realize what they've been doing—and why it's pretty silly.
I enjoyed reading The Berenstain Bears and the Biggest Brag as much as the girls did. It reminded me of Stan and Jan's style in storytelling, especially the opening pages. Both Gramps and Pa quote the Bible when talking to the cubs, but the verses fit with the story. The book includes activities and questions on the last page to help kids think more about the story and what the cubs learned.
Mike Berenstain grew up watching his parents, Stan and Jan, draw and write about the Berenstain Bears. Eventually he started drawing and writing too, and since his parents' deaths, he has continued telling the stories of these beloved bears. His books now have a faith element but still contain the same great story and lessons found in the original books.