We've heard rave reviews of Rathtrevor Beach from friends of ours for the past several years. On Friday, we finally had the chance to drive up there and visit because my sister-in-law and her girls were camping there for the week. We sat on the beach playing with the crabs, building sandcastles, and watching the mountains on the other side of the strait.
I thought about how much our beach experiences have changed since we first moved out here. I grew up in Alberta, where sandy beaches are generally imported and not very big. My brothers and I built some very big sandcastles and swam out to rafts to dive off or push each other in, but there were no shells to collect or crabs to find, no cool barnacle-covered rocks to investigate, no tide slowly flowing out to reveal more treasures.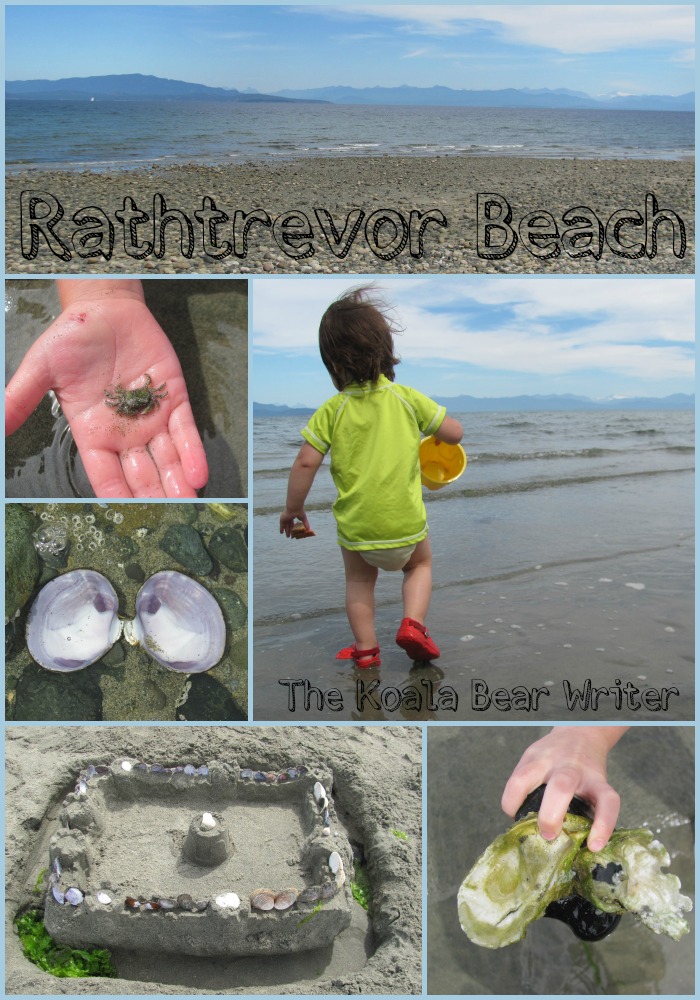 A few years ago when we arrived here on Vancouver Island, I knew very little about beaches. One of Sunshine's little friends showed her how to catch crabs. Back then, even I was terrified of being pinched by the tiny crabs. Now, Sunshine was fearlessly catching crabs and carrying a handful carefully around the beach with her. Even Lily wanted to help catching crabs, and Jade held out her hand to hold a crab but promptly shrieked and dropped it when she felt its poky feet.
We spent the afternoon just relaxing at Rathtrevor Beach. I chatted with my sister-in-law and helped the girls catch crabs and took pictures and built a sandcastle for them. The girls played with their cousins and flew a kite that a passing stranger gave them and tried to fill the moat around their castle with water and splashed in and out of the water.
It was one of those afternoons that I wanted to capture and hold forever. The girls were so happy exploring—and there was so much for them to explore and see and do. Everything seemed perfect—the sand was just right for building castles, the weather was neither too hot nor too cold, and everyone was happy.
This is what beaches teach us: to slow down and enjoy life.
To see what fun we had at Rathtrevor Beach, check out my YouTube video (and please subscribe to my YouTube channel for more videos like this!):

Getting to Rathtrevor Beach Provincial Park
Rathtrevor Beach is about two hours drive north of Victoria or half an hour drive north of Nanaimo (if you are catching the ferry across from Vancouver). It is a provincial park with a year-round campground. During the summer months, camping here is very popular and reservations are required.