I grew up on The Berenstain Bears. We didn't have many of the books ourselves, but we regularly borrowed them from the library or read them at friends'. Dad could always be talked into reading them to us and today, they are still among my favourites. I love the early books best (remember The Bike Lesson?) but recently, I've been rediscovering them with my daughters as Mike Berenstain continues the series his parents began.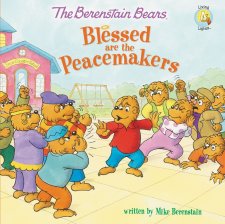 Blessed are the Peacemakers is Mike's newest book, a story in which Brother and Sister Bear get caught between two opposing groups of friends. Too Tall and his gang don't get along with Ferdy Factual and his friends, but most of the time, Brother and Sister can talk them into not fighting. Then the rival groups are cast together in the school play, Romeo and Grizzliet… and Brother and Sister have to help the whole school sort out the ensuing fights!
When I asked Sunshine if she liked this book, she said, "No, because they were fighting. The big kids weren't nice to the little kids." She did like it when everyone was getting along together at the end of the book. I appreciated that this book gave us a chance to talk about differences between friends and what we can do when our friends aren't getting along with each other. As an English major, I also appreciated the Romeo and Juliet reference (hey, gotta start them with the classics young, right?).
Blessed are the Peacemakers has the same great illustration style as the original books by Stan and Jan Berenstain. I found the story a bit different, as it was more about the kids at school in general than about Brother and Sister. I liked the way that Cousin Fred and Preacher Brown both recite Bible verses during the story, showing kids the importance of knowing and applying God's Word.
At the end of the book is a page with "Activities and Questions from Brother and Sister." I liked having the opportunity to talk about the story further with the girls and to make them think more about what they'd read. This would also be a great book to sit down and read with them when they're disagreeing about something. 🙂
I received this book for review courtesy of BookLook Bloggers. This post contains affiliate links; as an Amazon Associate, I earn from qualifying purchases.