When I'm working at my computer, I like having a hot drink.  I feel lost without my mug sitting just to the left of my keyboard, ready to sip while I'm thinking about what to write or waiting for a website to load. Recently, I've been trying to cut back on my coffee intake but as I stand in the grocery store tea aisle, I often feel lost.  There are so many choices—but what if I buy a whole box and then don't like it?  I've had teas I don't like sit in my cupboard for years.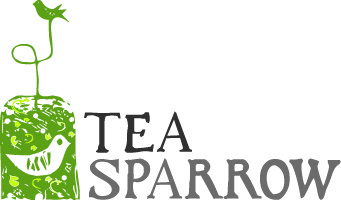 When I heard about Tea Sparrow, it seemed like a perfect solution.  They pick the teas and send a sample out each month.  I get to try four new flavours and, if I don't like them, it's only a small package.  Plus I have a larger variety to offer my tea-drinking friends when they come visit.  And if I like the tea, then I can go find more of it!
This month's box contained four teas: Lavender Earl Grey,  Organic White Rose, Strawberry Champagne, and Organic Chai Rooibos.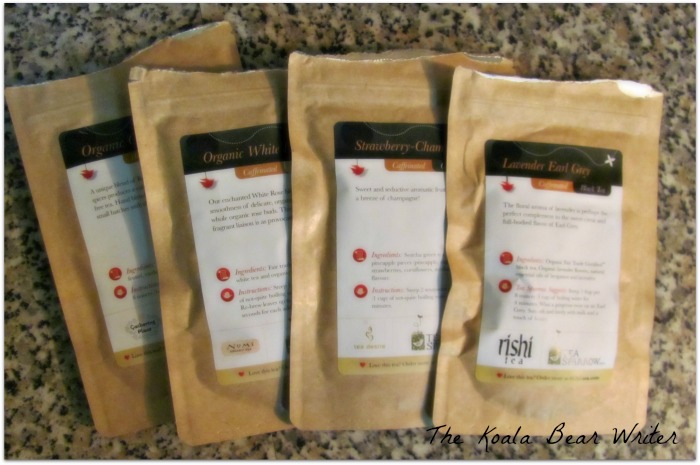 I couldn't wait to try them when they arrived in the mail.  Each little brown bag is resealable.  The label gives a description, indicates whether it is caffeinated or not, what type it is (green, black or white) and also lists the ingredients and brewing instructions.  At the very bottom, there's a logo telling you who made this tea and how you can order more if you really like it.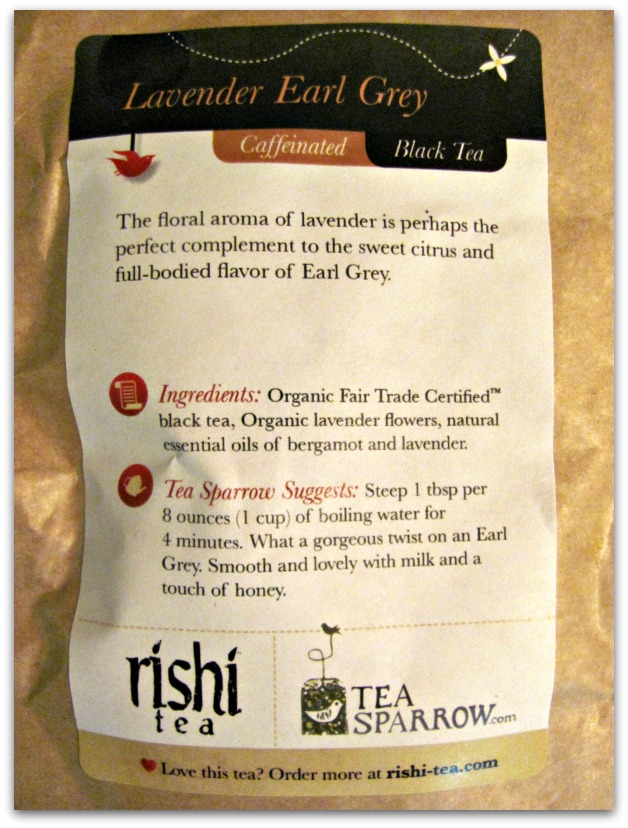 I tried the Lavender Earl Grey first.  It smelled awesome—I love smelling teas.  This was a caffeinated black tea that tasted great with a big of milk and honey (just as the label suggested).  I grew up drinking Earl Grey with my family (isn't that the staple tea in any home?) so I really enjoyed this twist on a traditional taste.  It was a great way to start my morning.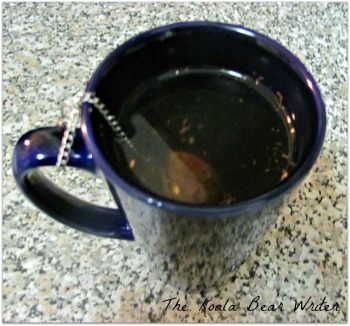 The Organic Chai Rooibos was herbal, perfect for drinking in the evening when I wanted to relax before bed (but avoid any caffeine).  Chai and rooibos are two of my favourite teas.
This tea needs a long steeping time (10 minutes) to bring out all the flavours, but I find it gets better the longer it steeps (so if you forget about it because getting the kids to bed takes longer than you expect, it's fine!).  The chai rooibos tea included some of my favourite spices: ginger, cinnamon, and cloves.  Delicious!
I wondered if the Strawberry-Champagne and Organic White Rose could live up to their names.  Many teas I've tried sound or smell delicious, but then don't taste that way.  So I was really pleased when these two actually did taste like strawberries and roses.
The Organic White Rose also said it could used more than once, so I did make two cups of tea with it one day and both cups tasted great.  Win-win for all four teas in this tea box!
It was fun to pour the leaves into my strainer and see what was in them.  (All the teas are loose-leaf so you'll need your own strainer.  The picture below is the Organic Chai Rooibos.)  Each looked a bit different—I could see the spices in the Chai Rooibos, the rose petals in the White Rose, the strawberry chunks in the Strawberry-Champagne.  Did I mention they all smelled great too?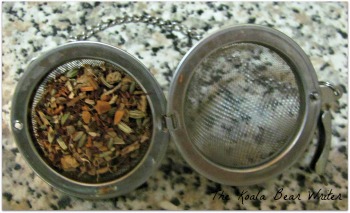 Sunshine watched me making my morning cuppa and asked, "What's that?"  I showed her the loose leaves and it became a learning opportunity for her.
Jade also finds it fascinating to watch me fixing my hot drink—she leans over my cup to watch me pour the hot water in and tries to reach for it.  Not sure why she finds it so fascinating, unless it because Mommy always seems to have it.
Tea Sparrow explains, "All the teas are free of artificial ingredients and are sent to us from tea blenders around the world. At our bi-monthly Tea Parties we invite our members to taste and score the samples we receive. We only send out the top-rated teas in our Tea Boxes."
If you are a tea fan (or want to become one!), Tea Sparrow offers several options for ordering:
A One Time Box – one box, one time ($25)
3-Month Prepaid Subscription – three boxes over three months ($66)
6-Month Prepaid Subscription – six boxes over six months ($120)
Ongoing subscription – here you can subscribe for ongoing boxes at $20 per month.  You can start/ pause/ stop this subscription at any time.
Are you a tea fan?  How do you like drinking your tea?
I received a free box for this review; all opinions expressed are my own.