Next Sunday is the start of Advent (already!), the count-down to Christmas.  I'm looking forward to doing some fun activities with Sunshine and Lily to celebrate the season (and so are they—in fact, they're currently counting down to Advent!).  Here are a few of the Advent resources for children I've found to help us make the most of the four weeks before Christmas.
Holy Heroes Advent Adventure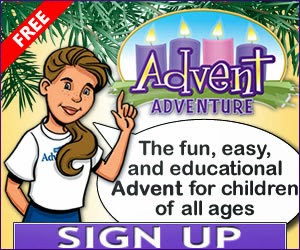 I've lost track of how many friends have emailed me an invite to the Holy Heroes Advent Adventure; apparently I'm not the only mom who thinks this is a great idea!  Sign up at the Holy Heroes website to receive a FREE daily email (except Sundays) with videos, stories, prayers, coloring pages, activities, quizzes to test what you've learned, and more!
Happy Saints Christmas Story eBook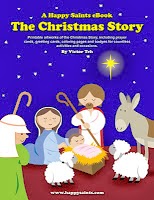 We are huge fans of the Happy Saints eBooks and they have a special eBook for Christmas.  It includes story posters, colouring pages, prayer cards, greeting cards, and badges or stickers of various scenes from the Nativity story.  The Christmas Story eBook is only US$9.90 and is available as a download from the website, so you can print as many colouring pages as your children want to colour—or a story poster for each of them.
Jesse Tree
The Jesse Tree is a cool idea that we stumbled across a few years ago.  This year, I'm hoping we actually remember to do it every day!  For each day of Advent, you decorate your Christmas tree (or wall) with a special ornament that represents a portion of the salvation story.  You can print ornaments from various websites, make your own, or buy them at your local bookstore or online.  The story each day can be as short or long as you want to make it—adapt it for whatever will suit your children.  And find a time of day that works to do this together, perhaps right before or after supper or before bedtime.
Four Advent Adventures
If doing something everyday like the Jesse Tree sounds a bit overwhelming, then check out these Four Advent Adventures from Focus on the Family.  Targeted for elementary-school-aged kids, each Adventure has an activity, some Scripture readings and some discussion questions for you to do together.  Author Catherine Wilson wants to "help you centre your children's attention back on the true meaning of Christmas, and the wonder of God's gift of Jesus." 
Advent Calendars
Of course, there's always the traditional chocolate Advent calendar, with a little door to open each day and a sweet treat to eat as you count down towards Christmas.  There are also tons of great ideas online for Advent calendars, such as this Upcycled Denim Pocket Calendar (if you like sewing) or this DIY Gift Tag Calendar (if you prefer scrapbooking-type crafts).  Then you can fill the calendar with whatever you want, such as little Scripture verses or quotes from saints, healthy treats, small toys, and more!
How do you celebrate the Advent season?  Do you have special traditions for the week before Christmas?