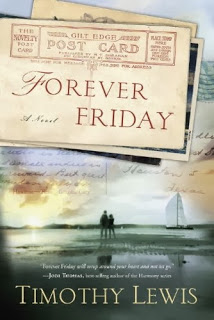 Huck Huckabee is searching for her soul mate. Gabe Alexander is looking for his Forever Girl. Sparks fly at their first meeting and he proposes on their first date. But already Gabe has seen enough of his friends slowly drift apart from their spouses that he's developed the theory of Long Division—and how to prevent it in his marriage.
Adam Colby meets the Alexanders after their deaths, when he discovers the postcards Gabe wrote for Huck. Still suffering the pain of his recent divorce, Adam wonders what he did wrong—and what the Alexanders did right. His curiosity sends him on a quest to find out more about the Alexanders and their secret for a lasting marriage.
The idea of a husband writing his wife a postcard every Friday for sixty years intrigued me. I also thought it was neat to find a romance novel written by a male author. Forever Friday was a quick, easy read with fun, likeable characters and a little bit of marriage advice snuck into the story. I enjoyed the glimpse of America in the middle of the century and the little poems that started each chapter.
I found Gabe's theory of "Long Division" interesting. He observes that most couples he knows "began as intimate lovers, exploring every curve and valley on the great matrimonial highway, but after numerous detours of children and career, limped along as platonic road-weary travelers." Just as long division in arithmetic requires many steps that continually divide, so he sees that "a marriage was filled with numerous obligations that divided time spent together. If over the years those divisions were allowed to multiply, then the once-shared passions slowly separated into single-minded interests."
However, unlike Adam, I didn't find that the Alexanders' story answered that question. Gabe and Huck seem like two perfect people who have a perfect love story. They have one tiny fight and one huge fight and deal with both in the same way. Otherwise, it's smooth sailing—a series of little anecdotes about how much they love each other and do sweet things for each other. I didn't see them struggling with adjusting to life together (especially when they got married a week after meeting each other—something I wouldn't recommend to any couple) or dealing with ways that their careers might have pulled them away from each other.
Huck and Gabe's faith is small but steady thread in the novel. Adam sees that "their happiness seemed to have been linked by body and soul, a depth of spirituality most couples never even consider, much less undertake. Huck and Gabe recognized a higher power greater than themselves, and this belief system anchored them."
Timothy Lewis is the author of twenty plays/musicals. Forever Friday is his first novel, based on the story of his great aunt and uncle. He lives with his wife in Texas. To learn more about him or his other books, find him on social media, or view a trailer for Forever Friday, check out his website.
I received this book for review courtesy of the publisher; all opinions expressed are my own. This post contains affiliate links; as an Amazon Associate, I earn from qualifying purchases.