Anne Hathaway, Hugh Jackman and Russell Crowe brought one of the greatest classic stories of all time to life with their interpretation of Les Miserables. I first encountered this story in my teens, when I read Victor Hugo's classic novel. Now, we own the movie, the novel and the audio book and I revisit the story regularly!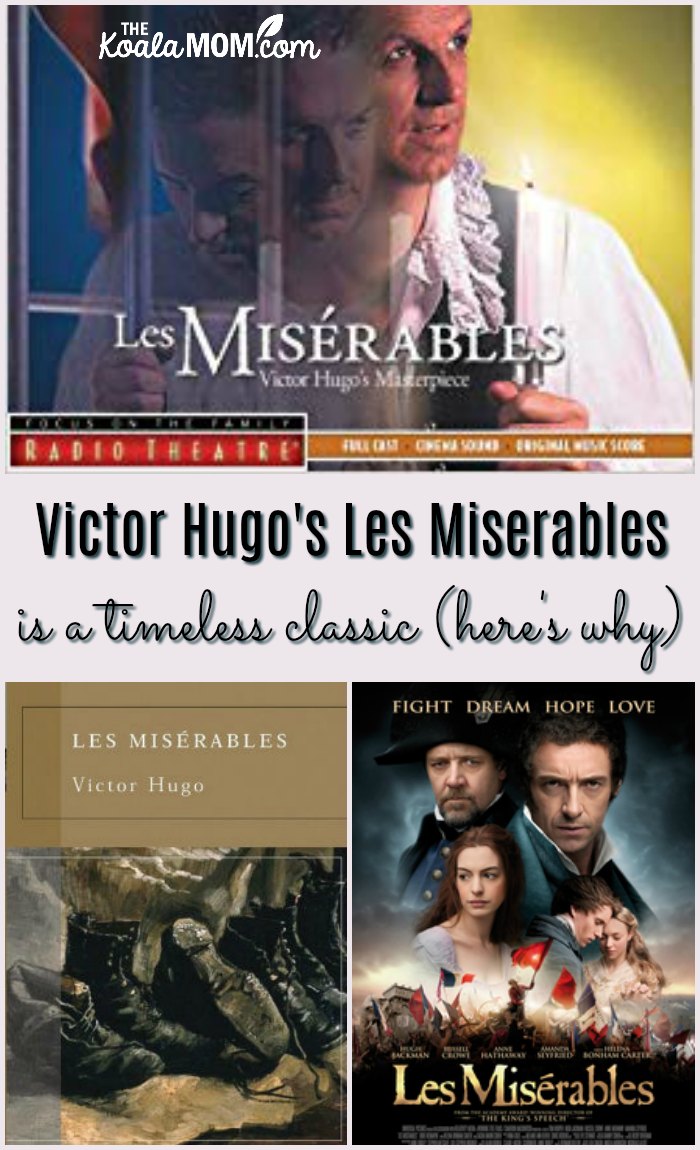 I first listened to Focus on the Family Radio Theatre's dramatization of Les Miserable while scrapbooking. Turning on a story and doing some crafts was a calming, inspiring way to spend an evening after the girls went to bed. We also enjoy listening to audiobooks in the van on road trips, though I haven't yet shared this story with the girls.
This post contains affiliate links.
Les Miserables: the Story
Jean Valjean is a French convict who is finally released after serving 19 years in prison—only to find out that no one in France will have anything to do with him because of his past. Finally, one kindly bishop takes Valjean in and treats him as an honoured guest. The bishop's kindness changes the hardened criminal's heart.
Six years later, Valjean is the beloved, hardworking mayor of a small French town.  However, his past is never far behind. The hard-nosed Inspector Javert keeps tracking him down, trying to send him back to prison. As Valjean attempts to fulfill the dying wish of Fantine to take care of her daughter Cosette, he must stay one jump ahead of Javert…
Les Miserables was first published in French in 1862. It was an instant popular success. Victor Hugo set his novel in Paris, France, at the time of the French Revolution. It gives readers an interesting perspective on that historical time—when a man could be imprisoned for years for stealing a loaf of bread. Some of Marius' character is based on Victor Hugo's own days as a starving student.
Les Misérables, let's remember, was a historical novel on its first publication. But what is a historical novel? With Les Misérables it allowed Hugo to rewrite history: to show how far history is fiction; how far fiction had always been taciturn about the mass of its editing. ~ Adam Thirlwell, The Guardian
Yet there's a lot in this story that remains timeless and relevant today. Men and women still struggle with making a new life for themselves after serving time in prison. Single moms still struggle with supporting themselves and their children, and with society's judgement for their efforts. People still fight around the world against injustice, and die for what they believe in.
God is hardly mentioned in Les Miserables, yet it is a very Christian story. It is a reminder to us that small actions can make a different. The bishop gives Valjean a second chance in life. All of us also have the opportunity to see the best in those around us, to help them make a new start or just make a better choice. And if we've been given that second chance (as all of us have, through Jesus' death on the cross), we can pay it forward to others like Valjean did.
Valjean is everyman: the anonymous, the ignored. ~ Thirlwell
Les Miserables: the Radio Theatre
Les Miserables is known as one of the longest novels in English literature. It's not to be tackled lightly. The audiobook makes this beautiful story more accessible to people by bringing alive the characters and events.
With a full cast, cinema sound and the original music score, Focus on the Family's audio drama truly does justice to this beautiful story.  I'd forgotten all the twists and turns of Les Miserable. As I listened, found myself delighted once again by both Victor Hugo's storytelling and by hearing each of the characters speak. Les Miserables
is a story that rings as true today as it did back in Victor Hugo's France.
For more information on Focus on the Family's Radio Theatre, visit their website.  You can also read my review of their recent production of Oliver Twist.
Les Miserables: the Movie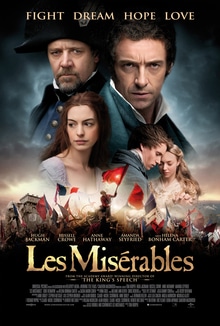 The 2012 Les Miserables movie, starring Anne Hathaway as Fantine, Hugh Jackman as Valjean and Russell Crowe as Javert, is also a great way to enjoy Victor Hugo's story.
This movie is an adaptation of the musical (which we had the chance to see live in Chemainus once!). Nearly the entire movie is sung by the characters (which my husband likes to poke fun at). I didn't know that either Hugh Jackman or Russell Crowe had such good voices!
Because it's all sung, it moves a bit more slowly (kinda like the novel!) but the music, lyrics, and amazing details of the scenery and character make it all worth watching. The opening song, "Look Down," still rings in my head, and Fantine's song, "I Dreamed a Dream," sends shivers down my spine. (The soundtrack would be worth getting along with the movie!)
Enjoy Les Miserables Today!
If you want to read the original novel after listening to the audio book or watching the movie… go for it! I find that knowing the plot to a classic novel makes it easier to read. Since I already know and love the characters, I can appreciate the extra details that novelists like Dickens, Hugo, Eliot and others added to the story, without getting lost in the details and frustrated about where the plot is going.
Have you read, seen, or listened to Les Miserables? What do you think of Victor Hugo's novel?