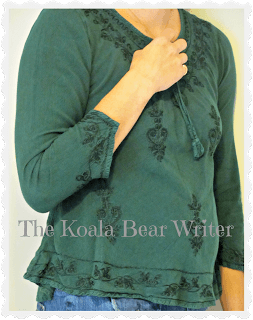 When I came across HolyClothing's website a few months ago, I fell in love.  They offer "exclusive, romantic clothing" for women.  Each garment is available in a rainbow of bright, beautiful colours.  Some of the dresses and tops made me think of Medieval garments (for those of us who love history!), yet they were also completely modern and wearable.
I was super excited to have the opportunity to review one of HolyClothing's gorgeous garments.  It was hard to pick one item that I wanted!  I finally decided on the Tesha Empire Waist Gypsy Emboirdered Boho Top (did I mention that I love the embroidery that comes on most of the garments?).  I picked the Green Jade (yes, I do like green) and waited.
When my top came, I was so excited to try it on.  The colour was gorgeous and the embroidery is even better in person than in the pictures.  The sleeves come to just below my elbows and have a V-point (similar to my wedding dress!).  There's embroidery all around the sleeve hem, the neckline, the waistline, and across the body of the shirt.  The scoop neckline has a tie which I still need to find a cute way to knot.
When I was first looking at HolyClothing's website, I was amazed at the prices.  I'd just been browsing the pictures, making a mental wish list, for quite a while before I decided to look at what the garments that I liked so much cost.  I honestly expected that they would be at least twice the price.  Such gorgeous, embroidered clothes shouldn't be as cheap as this website offers!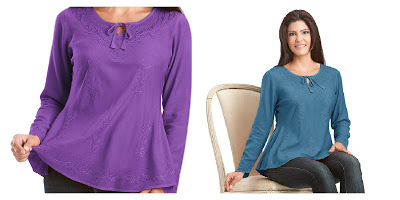 Like HolyClothing on Facebook to get sneak peeks at new arrivals and their drawing board, plus the chance to win one of their sweepstakes.  Plus, if you sign up for their email newsletter, you'll get $5 off your order.  The website is easy to browse—you can shop by size, colour, or garment type—and they offer free shipping on orders over $99.  I think I could really get into shopping this way.  🙂
Do you shop online for clothes? What do you think of HolyClothing's styles?

I received the top pictured in exchange for this review; all opinions expressed are my own.