During one of our visits to her, my mom asked me if I wanted the box of folk art painting supplies.  It was a cardboard apple box, almost full of books, brushes, wood pieces, paper, and other oddments.  I said sure.  It went with us on the next few moves and ended up on a top shelf in a closet here, where I began to think that I should just sell it off.  Was it likely that I'd ever get back into folk art painting?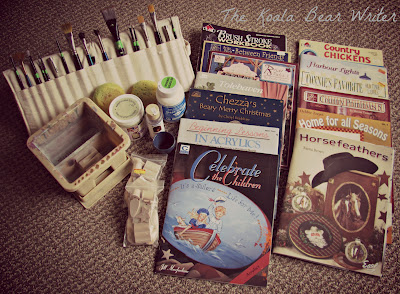 My mom and I began painting in 1997—I know this because it's the earliest date on any of the paintings I did.  It was my dad's idea.  His only stipulation was that we not fill the house with useless nicknacks.  So we painted toy boxes, binders, stools.  Most of the pieces we painted were built by my dad or my brother, and sometimes I helped them cut and glue the wood before I began painting it.
When I started university, my mom continued painting, taking more classes and buying more brushes.  Then she too became busy with other things—such as returning to work at our local pool—and folk art painting fell aside.  The local studio we'd painted at shut down.  All the supplies we'd bought over the years gathered in that box, and as I looked at them and thought about what we'd spent to acquire them, it seemed sad to just get rid of it.
As a child, I had wanted to be an artist.  I used to draw princesses with frilly dresses and big hair and poofy skirts.  My dad encouraged my artwork, buying me fancy papers and watercolour pencils and oil crayons.  In my teens, I accepted the fact that my art form was writing, not drawing or painting.  Yet folk art painting—also known as tole painting—with its focus on a set of learned skills applied to a pattern created by another painter, allowed me for a time to enjoy that feeling of creating.
Now I'm a mom, with two little girls and a half-finished second degree and a growing blog and a bunch of novels in need of editing sitting on my computer.  The box of painting supplies was taking up space in my closet.  I asked Mom if she'd be heartbroken if I tried selling it.  She wasn't.  Nobody responded to my ad.  I sent the books to a friend, gave a few brushes to my cousin, let my daughters paint some of the smaller wood pieces for magnets.
There are times and seasons to our lives, I realized.  Folk art painting was one season, and it has passed.  Maybe someday, when the girls are a bit bigger, I'll pull out the brushes and buy enough paints to finish the Noah's Ark set for them.  Maybe one of them will inherit their other grandmother's artistic talent and be able to use the brushes to create their own paintings.  Or maybe I'll continue cleaning out my closet while enjoying the folk art paintings that hang on my walls.
Have you changed or given up hobbies as you've moved into different stages of life?