For a variety of reasons, my husband and I have always talked about homeschooling our kids.  I'm grateful that we know quite a few other homeschooling families, and many of the bloggers whom I follow also homeschool and have posted their tips and ideas online.
Despite this, the idea of beginning school with Sunshine in the next year or two is a bit daunting.  So when I came across the Reading Horizons phonics program, I was excited.

Reading Horizons offers a revolutionary approach to teaching reading and phonics.  The program I ordered is for children ages 4-9, so I can start it with Sunshine this year and keep building on it for the next several grades.  Reading Horizons uses a research-based, multi-sensory approach to learning that engages all learning styles and keeps children interested.
I'll admit that when the material first arrived, I was overwhelmed.  There are three large teaching binders, four small reading books, three wall posters, and a folder full of cards and extra materials.  Once I started going through it, however, it was very clearly laid out.  The binders contain prepared lessons, with step-by-step instructions for teaching children.  While the lessons are designed for a classroom, it was easy for me to modify them for use with Sunshine.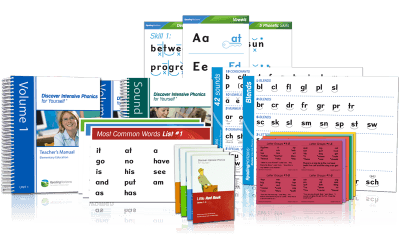 Sunshine was excited to do the lessons.  She's expressed frustration at not being to read books to herself.  I like the one-on-one aspect with Reading Horizons and the fact that I can tailor it to her strengths or to what she already knows.  Reading Horizons also works on teaching children to write.  Reading Horizons also has a software program; a new version is releasing for schools this month and should be available for home use early next year.
For Sunshine's lessons, I've used materials that we have around the house.  Instead of a chalk board, I use her MagnaDoodle or one of her small art easels.  I can easily photocopy the activity pages from the book for her to practice with (or print them from the website).  She found the first few lessons easy, because she already knows several letters, so we moved on to more challenging material.
For me, there is extra support available in a CD that came with the teacher's manual, as well as a variety of free webinars on the Reading Horizons website.  Reading Horizons offers parent phonics training and homeschooling resources.  This material can be used with ESL learners, child with disabilities, or children with dyslexia.  Reading Horizons offers programs for children from ages 4 to adult.
Overall, I've been quite impressed by the materials and support from Reading Horizons.  I'm looking forward to delving more into the lessons with Sunshine this year and in the years to come.  I remember learning phonics when I started homeschooling in Grade 1, so I know the importance of phonics in learning to read successfully.  I can't wait to see these lessons come together for Sunshine so that she can begin to read by herself.
Reading Horizons provided me with the phonics program for this review; all opinions expressed are my own.