Last September when Sunshine started preschool, I found myself scrambling to put her name on everything she took with her. Often, she'd be getting ready to head out the door and I'd tell her, "You can't wear that!  It doesn't have your name on it."
This year, thanks to Oliver's Labels, I'm ready for preschool to start again.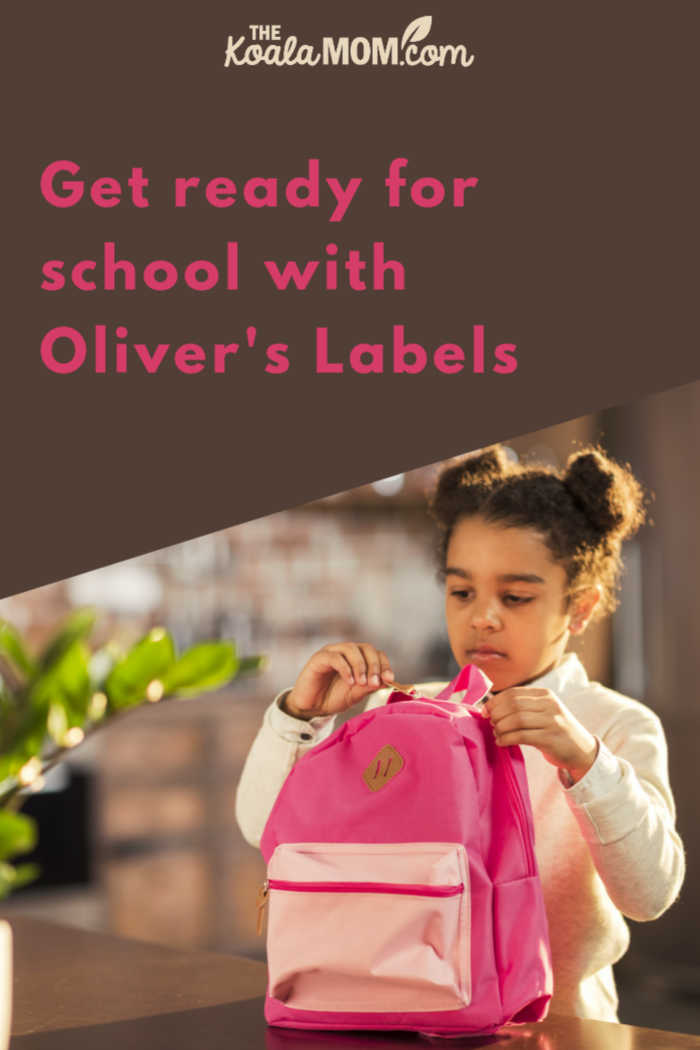 I received a School Package for review; all opinions expressed are my own.
The School Package from Oliver's Labels
Sunshine browsed the Oliver's Labels website with me and had fun picking the designs and colours for her labels (though it was hard to convince her that she had to choose just one of the 40 designs). We received the School Package, which includes 95 labels for clothes, shoes, bags, lunch boxes, and whatever else she might need to take to preschool with her.
Sunshine wanted to use her labels right away, so we put them in her helmet, running shoes, and coat. I was impressed with how well the labels stuck and how nice they looked on her things (much nicer than my permanent marker labeling!).
Getting ready for Preschool
Sunshine absolutely loved preschool last year. She attended two afternoons a week and it was the highlight of her week. We picked the preschool based on recommendations from several friends—five or six families all mentioned the same preschool to us last year, and it was close to our home, so it seemed like a great fit. This year, Sunshine will be going five afternoons a week and is super excited that her little friend next door is also going on the same days.  I'm hoping we can arrange some carpooling…
I'm excited that these labels will make preschool preparation so much easier. Particularly since I requested the free Found-It code on all of Sunshine's labels. If she loses something (at preschool or elsewhere), then anyone who finds it and sees the label is directed to the Oliver's Labels website. THere, they they can enter the unique code and the website will send me an email notification. I think I'm going to put labels on our diaper bag and Ergo carrier and a few other things we've lost recently (and thankfully recovered).
More about Oliver's Labels
Oliver's Labels offer full-colour labels in over 40 great designs. Their products are made from high-performance, waterproof, and scuff-proof materials that have been tested to be durable in a huge range of environments.  The sticky labels can be used on items that go in the dishwasher, microwave, fridge, freezer and outdoors; the clothing labels are easy to apply and can be thrown into the washing machine and dryer. Printing on the labels is guaranteed to never rub off!

UPDATED 2020: We've put these labels to the test over the last few years and they live up to their promises! Oliver's Labels really do stick through ordinary wear and tear as well as going through the dishwasher, laundry machines, and even in the oven. I've put these labels on my kitchen bowls and pyrex pans for taking to church potlucks, on the girls' clothing and shoes, on our bags, and on so much more. I've never gotten an email from the system by someone who has found our items thanks to the labels, but they have at times helped us sort out who's things were whose.