Last year, I tried making a digital scrapbook for the first time when I found a coupon online.  I'd kinda given up on putting photos in albums as it took so much time to get them printed and sorted, much less add any descriptions or pretty backgrounds.  A friend of mine with lots of scrapbooking experience had done several digital scrapbook albums, so I thought it was worth a try.  Long story short—I fell in love and recently finished a second photobook.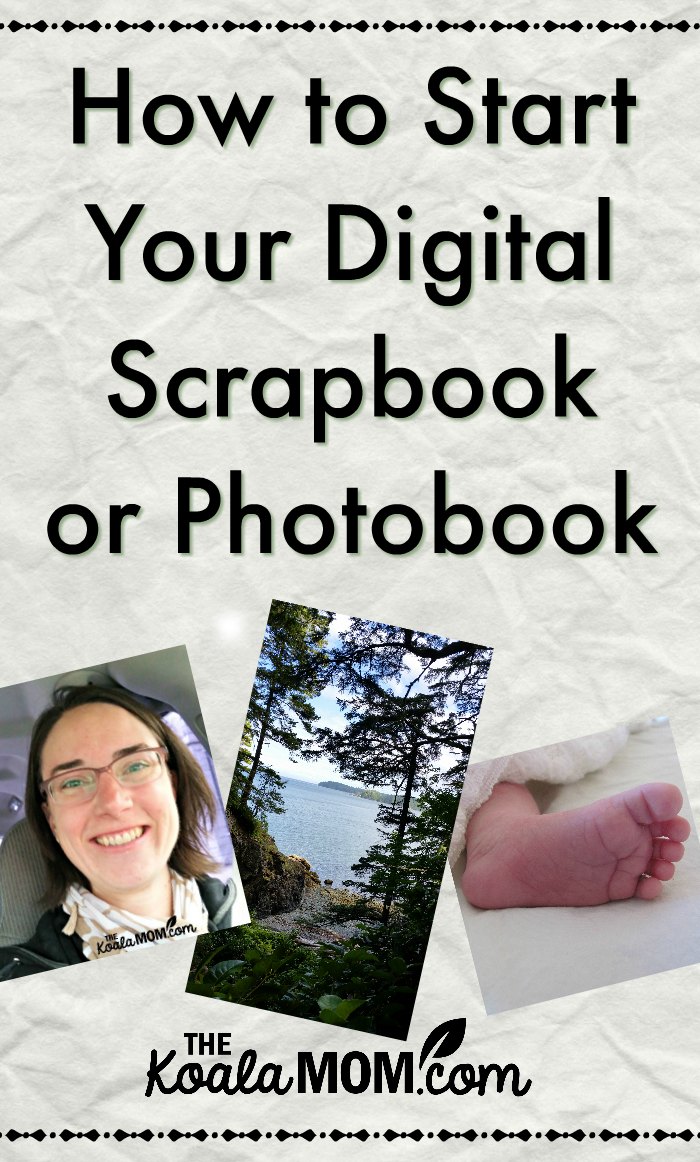 Quite a few websites offer digital scrapbooking (below are the ones I've tried).  Each has software to download onto your computer and use to create your book.  You can choose what size and style of book you want.  The software offers various backgrounds and layout suggestions, as well as other tools for cropping and framing photos and adding text.  When you are done creating your project, you upload it to the website and the company prints it, then ships it to your door.
For me, creating a digital scrapbook was super easy because there was no mess; no glue, paper, scissors, stickers or pictures for Sunshine to get into and "help" with.  I could work on the project for a few minutes, then close it and leave without having to clean up everything.  I also love the small size of the digital scrapbook—it takes up very little space on my crowded bookshelves and is easy to show off to friends and family.
If you want to try digital scrapbooking, I suggest watching for coupons.  I got both my photobooks for less than half price by grabbing deals offered on Groupon.  The websites also offer deals and sales, such as two for one deals if you want to order books for grandparents; simply create the digital album and then wait for the deal to pop up before you order.
Picaboo
I used Picaboo last year to create an album for 2010.  It took me a few days to learn everything that Picaboo's software offered.  Once I'd put a few pages together and noticed what all the buttons and options were, the rest of the album was easy.
You can edit your photos (fixing red eye, changing to black and white or sepia, etc).  I particularly liked the layout options in Picaboo; it was easy to add captions and text to the page, explaining where/what/when/why and anything else I wanted to say about our adventures.
You can also create student yearbooks in Picaboo.
Photobook Canada
One of my projects for my Christmas break this year was to scrapbook 2011 using Photobook Canada's software.  While the software was similar to Picaboo's, it offered much fewer background options.  This made it easier to keep a consistent theme to my album, but left me frustrated when I wanted season-specific pages (there was nothing that looked Christmasy).  I also couldn't edit the photos and captions had to be inserted as text boxes (a bit awkward).  The software did have digital "stickers" that I could use to ornament my pictures.
VistaPrint
I've used VistaPrint for photo calendars rather than photobooks, but they offer a wide range of photo products.  Both this year and last year, I created calendars of the girls for our families.  VistaPrint was the cheapest company and produced nice coil-bound calendars.  They do send out a lot of emails, so if you aren't watching for a good sale, you'll want to unsubscribe from their mailing list.  If you are ordering Christmas products, try to do it in November to get the cheapest shipping.
Creative Memories
My scrapbooking friend recommends this  software, which can either be downloaded or ordered on a disc (you can try it free for 40 days before purchasing).  Creative Memories allows you to create individual pages (8×8 or 12×12) which you can then print at Costco and add to your album; my friend likes mixing traditional pages with digital pages in her albums; she says, "That way, I can keep up with my scrapbook if I don't have time to individually traditionally scrapbook each page."  Creative Memories also lets you edit your photos, layer paper, add embellishments, etc.
As a mom, digital scrapbooking is a perfect solution—quick and easy and mess-free.  And I don't have to worry about the girls pulling pictures out of the albums if they want to look (which they love doing).
Do you enjoy scrapbooking?  Have you tried creating a digital scrapbook or photobook?