Sunshine started swim lessons today—Red Cross Sea Otter, half an hour a day for two weeks.  I've debated for a while about signing her up.  Both she and Lily have been in the pool since they were about four months old and both love swimming.  My mom is a swim instructor, so I grew up playing in the water and I can easily teach them how to swim.
While we lived in northern Alberta, I took Sunshine to a twice-weekly moms 'n' tots aquafit class.  I got to do aquafit with an instructor and several other moms while our kids played with another instructor in the kiddies' pool.  When we moved back to central Alberta, I started working full-time and didn't take Sunshine swimming for about six months.  By that time, she'd forgotten everything she knew—she wouldn't jump in or put her face in or do a back float anymore.
Since then, I've tried to take her swimming every week or two, except for a few months just after Lily was born.  I worried that, by the time Lily was old enough to go in the pool, Sunshine would have forgotten her swim skills again, but this time they stuck a bit longer.  Maybe it helped that we went swimming with my mom whenever we visited her.  Sunshine adores Grandma D and will do anything for her in the pool—especially since Grandma D knows all sorts of fun games.
On our last visit to my mom, in late July, we met her at the pool one day as she was finishing her shift there.  Sunshine saw the big water slide and wanted to go down, but I couldn't take both her and Lily, so I told her she'd have to wait for Grandma.  Then she saw the big pool and wanted to go there, and once again I had to tell her to wait because I couldn't hold two kids up in the deep water.  Finally, my mom was off work and jumped in with us.  We went down the slide several times and then Grandma D took Sunshine to the big pool.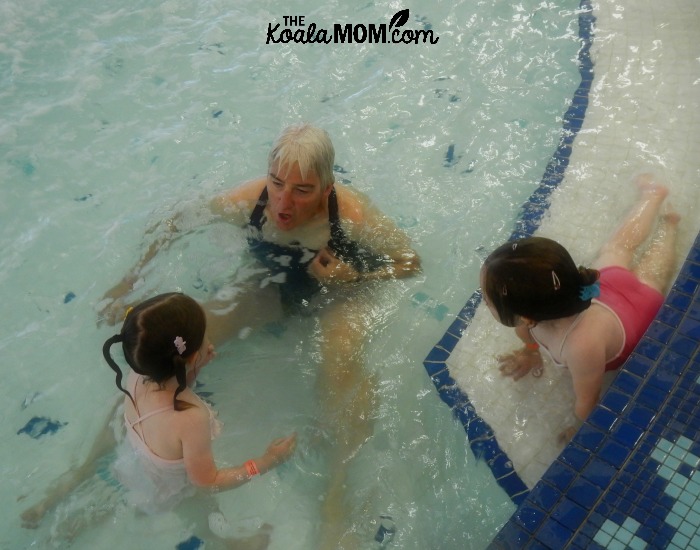 While Lily and I watched from the edge, they swam around with a pool noodle.  My mom is a strong enough swimmer that she could swim with Sunshine on her back, like a momma otter.  Until Sunshine saw the diving board and wanted to try that.  "Okay," Mom said.  Up they went.  They had done this once before, but that time, Sunshine was wearing a life jacket and my mom caught her when she jumped in.  This time, Mom jumped off with her—sans life jacket.  For what felt like minutes, I stared at the water, waiting for them to come back up. When Sunshine popped back up out of the water and asked to go again, I figured it was okay. She went off twice more with Grandma before we called it a day.
So I knew Sunshine's swim skills were pretty good.  But we don't live close enough that I can take her swimming regularly with my mom.  It's hard to take two kids swimming (heck, it's hard just getting two kids in and out of the pool!).  Lily now wants to explore more in the pool, while Sunshine has absolutely no fear of the water.  Swim lessons provides one solution; the instructor can play with Sunshine (and get her putting her face in and floating on her back again) while I play with Lily.