There are some people (like me!) who read a lot of books and talk about books a lot.  There are others who seldom mention the book they are reading, so you pay attention when they do.  At Christmas, my father-in-law told me I should read Nora Hickson Kelly's autobiography My Mountie and Me: A True Story.  He'd mentioned it to me back in the summer, but he was still reading it then.  So I brought it home and added it to my "to read" pile.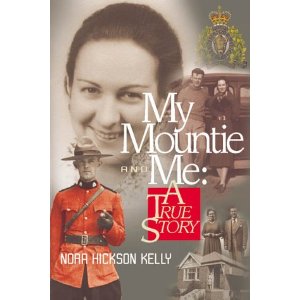 Even without my father-in-law's recommendation, I would have been interested.  My Mountie and Me reminded me of stories like Mrs. Mike (one of my all-time favourite books) or Janette Oke's Canadian West series.  All of these are about wives of the Royal Canadian Mounted Police (RCMP).
Nora is a teacher in rural Saskatchewan when she meets Bill, a Mountie.  While other young ladies are swooning over young, eligible Mounties, Nora isn't interested.  She sees the RCMP as an authoritarian male organization and she has no intentions of getting involved.  But their love of music draws Bill and Nora together and soon they are talking of getting married.
There's just one problem: the RCMP requires that its members serve for a certain number of years before marrying.  Bill and Nora endure several years of waiting before finally getting married in a small ceremony in Toronto, where Bill has been transferred.  He is able to take three days off from his busy working schedule for their wedding and honeymoon.  Then he's back at it, and Nora realizes that she's married a workaholic and must find her own way of keeping busy.
Nora includes tidbits of RCMP history and interesting historical details about Bill's work, especially his cases in Ontario during World War II.  She talks of his frequent transfers and the start of her own writing career.  Through it all, she maintains a sense of humour, despite her loneliness and health issues.  In one case, Bill was transferred to a new city and they lived there for only three weeks before he received another transfer.
Black and white photographs of Bill and Nora are scattered throughout the chapters, adding to her detailed descriptions of their clothes, houses, and cars.  Nora writes in a very conversational way that was easy to read and kept me wanting more.  It was like sitting down with a good friend to hear the latest news about what she's been doing.
This book was lent to me by my father-in-law. This post contains affiliate links; as an Amazon Associate, I earn from qualifying purchases.