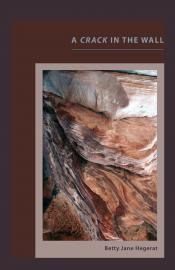 I don't often read short stories, which is perhaps one reason why I find it hard to write them. When I do pick up short story anthologies or any of the literary magazines publishing short stories, I often find myself confused or depressed by the stories included there. It makes me wonder if my short stories don't meet the grade because I like cheerful scenes and happy endings.
Recently, however, I read Betty Jane Hegerat's collection of short stories, A Crack in the Wall, and thoroughly enjoyed them. I found myself turning the pages eagerly, disappointed when one story ended and yet anticipating the next story.
Many of the characters in A Crack in the Wall are in transition, moving on, facing changes. Sometimes these changes are related to a death or divorce—major life events. The characters must figure out how to deal with what has happened and how their lives are going to be now. The stories were humorous, interesting, inspiring; full of characters whom I could relate to.
One of my favourite stories was "Water from the Well." It's told from the perspective of Ilsa, an elderly lady in a nursing home, as her mind wanders between past and present, sleep and wake. In a strange twist of fate, she shares her room with an old enemy, a former neighbour from her homesteading days. Just as that neighbour kept water from Ilsa's family when they were homesteading, Ilsa is now keeping water from her. Then, at the end of the story, a small comment in the other woman's ramblings gives the women a common ground, a place to make peace.
A Crack in the Wall is Betty Jane's first book, a delightful collection of short stories that's earned a place on my packed bookshelves. Like her novels, this book both inspires and challenges me as a writer, making me hope that someday, I can write stories that are even half as good as Betty Jane's.