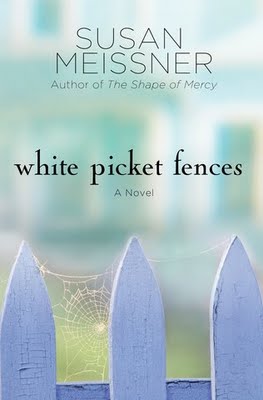 Amanda Janvier has the perfect life. Nice house, nice job, good husband, two kids. Not like her brother Bart, who can't keep a steady job or even a steady home for his daughter Tally. Now, Tally is coming to live with Amanda and her family because Bart is off in Europe on a wild-goose chase. But as Tally settles into their family, Amanda slowly discovers her life isn't as perfect as it seems.
Amanda's son Chase connects with Tally on the night that she arrives, sensing a kindred spirit because they both share secrets. To Tally alone does Chase confide his struggles to remember a childhood trauma. Amanda senses her son's struggles, but is unable to connect with either him or with her husband—and feels like her family is falling apart.
In White Picket Fences, Susan Meissner spins a rich, touching tale of two families' lives. Through the story, she asks the question what makes a family. More surprises about the family are unearthed as Chase and Tally get to know two Holocaust survivors for a school project.
What I liked most about this book was the relationships, the dialogue between characters. Susan has a flair for capturing through the nuances of dialogue how two people relate—whether it is Chase and Tally struggling to get to know each other as cousins and friends or Neil and Amanda viewing their marriage and family from different perspectives. The discussions and interplay between characters really made them come alive in the novel.
In an interview at the end of the book, Susan says she was led to write White Picket Fences because she "saw that despite the outward appearance of a less-than-perfect home, a child could be loved there. Just because a parent is unconventional or unsuccessful career-wise or makes choices that buck society norms, it doesn't mean that he or she is by default a 'bad' parent. Likewise, parents who we would traditionally call 'good' . . . can nevertheless make decisions regarding their children that have hugely negative effects, and yet their outward appearance would never lead anyone to suspect it." This story delves into those outward appearances and the judgements we make on such families.
Susan Meissner grew up in California and has been writing since age eight. She worked as a part-time reporter, newspaper columnist, and newspaper editor before turning to novel-writing. She has four children and her husband is a pastor in San Diego and chaplin in the Air Force Reserves. When she's not writing, Susan enjoys teaching writing, spending time with her family, reading, and traveling.
For those interested in discussing this book in a book club, Susan has a list of questions available on her website. You can also find an excerpt from the book and more information on the Random House website.
This book was provided for review by the WaterBrook Multnomah Publishing Group.