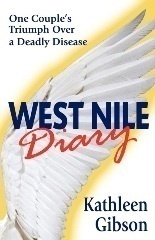 West Nile Diary: One Couple's Triumph Over a Deadly Disease was perhaps an ironic reading choice for the week I was at home sick.
I picked the book up at the ICWF Fall Conference because, having read many of Kathleen Gibson's articles in Reader's Digest and on her website, I was interested in her writing. Plus, I was curious about the topic of the book.
This post contains affiliate links; as an Amazon associate, I earn from qualifying purchases.
West Nile Diary Summary
Like H1N1, we've heard lots about West Nile Virus—and yet we don't know much about it. I thought that a virus-ridden mosquito bite just caused a case of the flu. As I learned from Kathleen's book, in some cases, that's true. In other cases, like her husband's, the virus is much more serious.
West Nile Diary is a compilation of Kathleen's journals, columns, and email updates to her family and friends during her husband's fight with West Nile Neurological Disease (WNND).
Pastor Rick came down with the virus in the summer of 2007. Kathleen's descriptions of how sick he was are scary. Yet it took hospitals and doctors several days, even weeks, to finally diagnose him with WNND. The virus caused brain damage and paralysis in Rick's body.
My Thoughts on West Nile Diary
Although the topic of West Nile Diary is bleak, Kathleen's writing is anything but. She brings to her writing the humour and faith that has endeared her to readers of her column and articles. There are moments of laughter in their struggle against the "pirates" of the West Nile.
There were also moments when I was nearly crying (and trying not to, because I finished reading West Nile Diary during breaks at work) as Kathleen shared stories of their fellow patients at the rehab centre where Rick worked at regaining his strength and mobility. She talked of little miracles—money, people, encouragement that came just when it was needed.
At the end of West Nile Diary, Kathleen provides an epilogue with more information on WNND and a few definitions of the terms she uses. It's a small book, one that should be encouraging to anyone fighting "pirates," be they viruses, disease, or madmen, as Kathleen says.
West Nile Diary is a beautiful story of faith, hope, and love in a dark time.
About Kathleen Gibson
Kathleen Gibson has written hundreds of magazine and newspaper articles and columns. She's also the author Practice by Practice: The Art of Everyday Faith. You can read her weekly column, Sunny Side Up, on her blog or find her on Facebook.
West Nile Diary is also available as an audiobook, either as an mp3 download or as a 6-CD set.
I bought this book myself because I knew that it would be good, and I highly recommend it to everyone else.