The sight of red rhubarb stalks in the grocery store always takes me back to my childhood. We had a huge rhubarb plant in the corner of my mom's equally huge garden. My brothers and I often helped ourselves to a sour snack, rinsing the rhubarb under the hose and plopping the big leaves on our heads. We'd take a bite, make a face, swallow it down, and take another bite. Even better than that, though, was Grandma's rhubarb pie.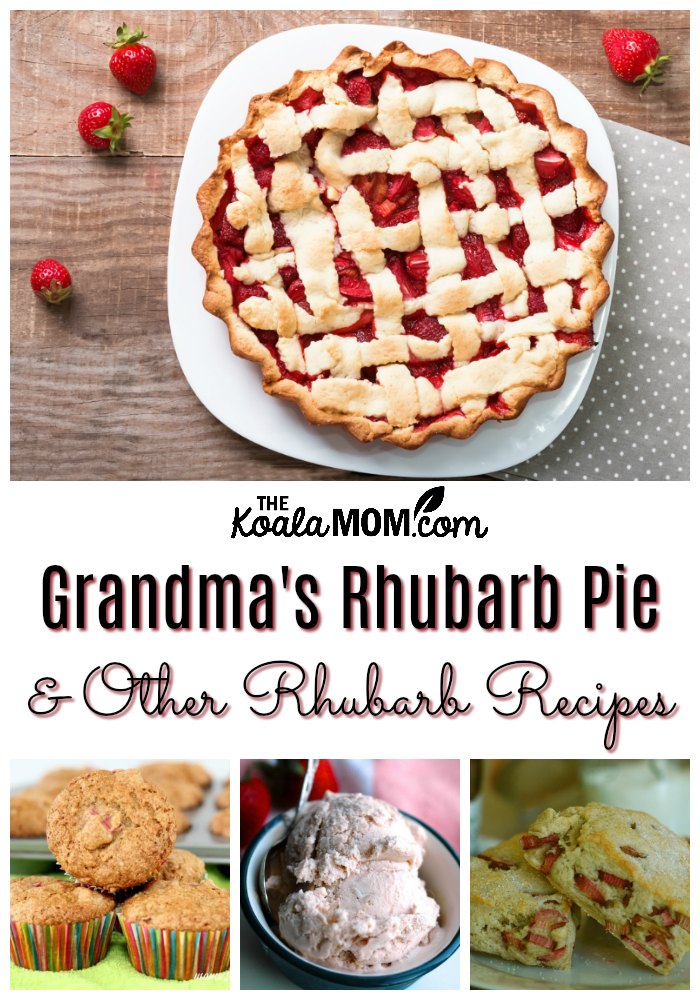 Nothing tastes like summer to me as much as my Grandma's rhubarb pie. It was something we only had at her place, so it was a special treat. Grandpa kept up the garden at the farm he'd sold to my uncle. He had both a thriving rhubarb plant as well as strawberry plants. When he brought home piles of fresh fruit, Grandma often combined them to make her pie.
Grandma's Rhubarb Pie Recipe
Line a pie pan with pie dough or use a prepared pie shell. Mix 4 cups of unpeeled, diced young rhubarb stalks (or 2 cups rhubarb and 2 cups strawberries), ¼ cup all-purpose flour, 1 1/4 to 2 cups sugar (depending on your sweet tooth!) and 1 tablespoon butter. Pour into the pie shell.
Top with either a regular crust or a lattice crust. Bake for 20 minutes at 400* C, then reduce heat to 350* C and bake for another 20 minutes. Enjoy!
Dietary Benefits of Rhubarb
Aside from tasting great, rhubarb is also very healthy. Rhubarb is packed with nutrients, vitamins and dietary fibre. In some parts of the world, it's considered a vegetable and it is low in calories (unless you serve it with lots of sugar!). Rhubarb is a good source of Magnesium, Vitamin C, Vitamin K, Calcium, Potassium and Manganese.
In ancient Chinese medicine, rhubarb was used to soothe stomach ailments and constipation. Modern studies have found that rhubarb does help us stay healthy in many ways. According to the Food Facts at Mercola.com, rhubarb provides "fiber for ease in digestion, vitamin K for healthy bone growth and neuron function in the brain, natural antioxidation from vitamins C and A, as well as anti-infection properties, healthy skin, mucous membranes, vision, and potential cancer protection."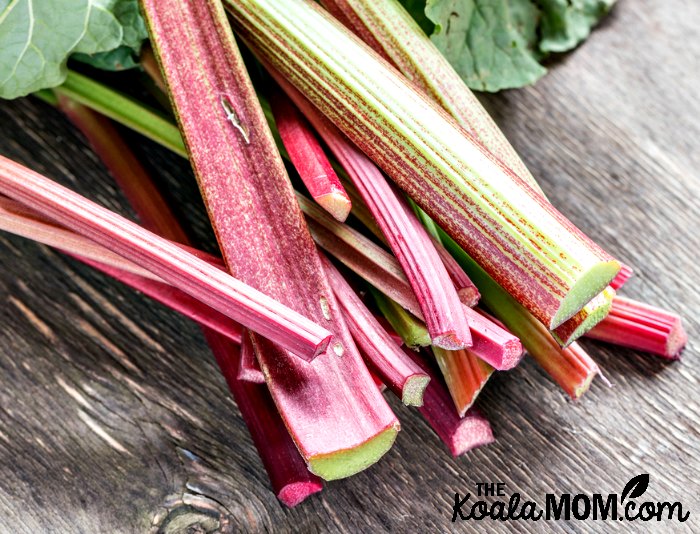 Only the rhubarb stalk is eaten, as the leaves are actually toxic.
Preserving Rhubarb to Enjoy Year-round
Rhubarb can be frozen, if you are lucky enough to have a large rhubarb plant in the corner of your garden. Simply wash and chop the stalks. Measure portions (e.g., 2 cups) to make into Grandma's rhubarb pie or your other favourite rhubarb recipes later.
If you like home canning, there are plenty of ways you can preserve rhubarb. Take advantage of your rhubarb plant in the summer to make strawberry rhubarb jam (my girls' favourite!) or strawberry rhubarb pie filling (for easy pies later!). Canned goods also make great gifts. My mother-in-law makes us strawberry rhubarb jam every summer. The girls look forward to getting it and rue the day that we eat it all and have to wait until next year for more.
More Rhubarb Recipes
Rhubarb Apple Crisp—rhubarb also pairs well with apples. A crisp is easy to make if you're short on time or don't want to bother with a pie crust.
Rhubarb Frozen Custard—this is the ultimate summer treat! With all the rhubarb we had when I was a kid, and all the ice cream my mom made with fresh cream from the farm down the road, I'm surprised we never tried this. You do need an ice cream machine for this recipe.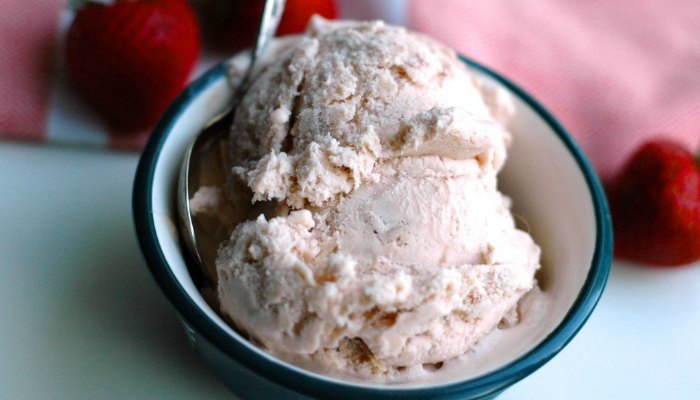 Rhubarb Bread—this would make a great mid-morning or mid-afternoon snack. Serve it for "tea time" or take it to your next mom's group or playdate.
Whole Wheat Rhubarb Muffins—if you're looking for a healthy way to use rhubarb, check out these delicious muffins.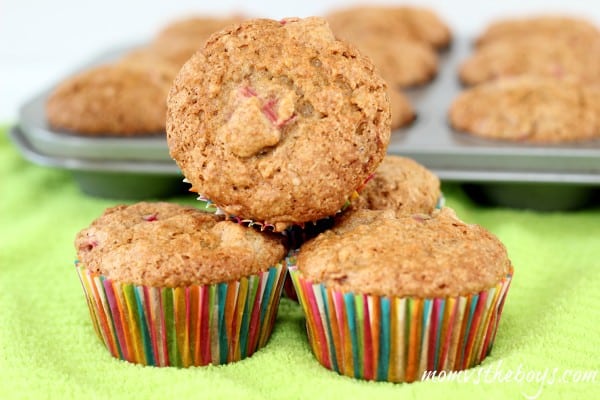 Rhubarb Muffins with Almond Streusel—for a sweeter muffin, try these muffins with a sweet, nutty struesel on top.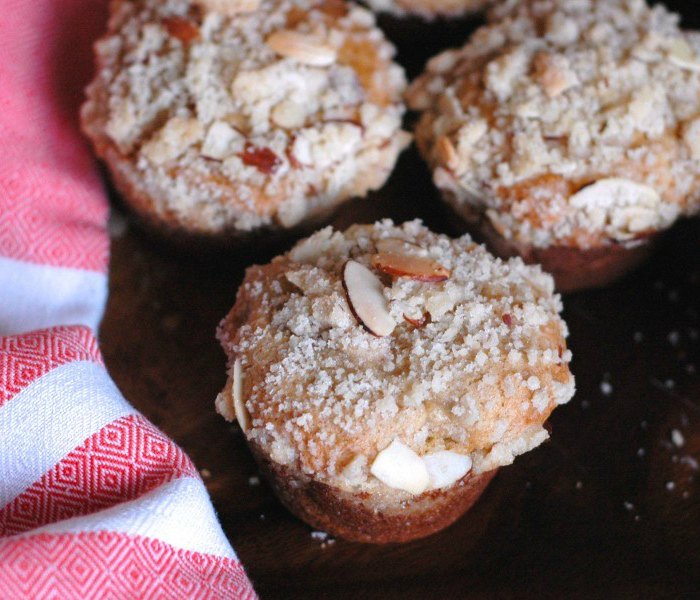 Rhubarb Cake—if you've got a sweet tooth, make this rhubarb cake. Sugar takes the sour edge off the rhubarb and the rhubarb makes a nice moist cake.
Rhubarb and Vanilla Sugar Scones—plan a high tea with these scones for the centre piece: "The bits of rhubarb create pockets of puddly tartness, that kind of melt into the layers of dough, making any thought of adding jam redundant."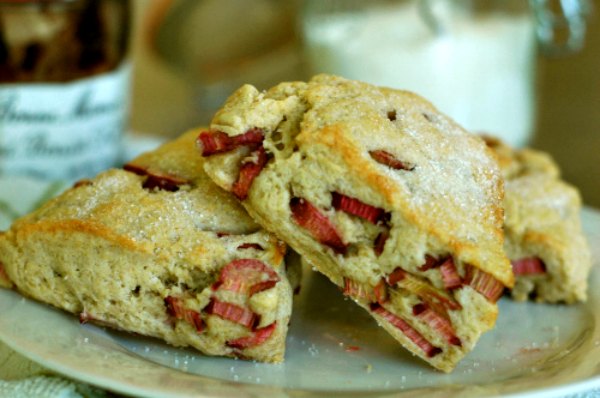 Rhubarb Salad with Goat Cheese—this delicious summer salad pairs rhubarb with goat cheese and arugula in a honey balsamic dressing. If you don't feel like baking, whip up this salad for your next meal.
Are you a rhubarb fan? What's your favourite rhubarb recipe?