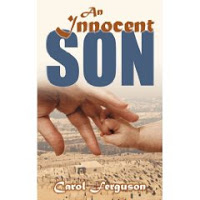 Fiction often starts with a question, an author wondering either "what would it be like…" or "what if…" In An Innocent Son, author Carol Ferguson asks—and answers—the question, "What would it be like to be the parents of one of the children Herod murdered in Bethlehem when Jesus was born?"
An Innocent Son is a moving story that captures the life of one couple in Jesus' time.
Judith and Ethan are deeply in love with each other, and their wedding day, coming after nearly a year of waiting, is all that they dreamed it would be. They settle into their home with Ethan's family, where Ethan helps his father with the sheep and Judith helps her mother-in-law with the household chores. They look forward to starting a family, yet four long years pass before Judith can finally share good news with Ethan. Jair's birth is surrounded with joy for the whole family, and brings some peace between Judith and her bitter mother-in-law.
Then tragedy strikes on the day that Herod becomes jealous of a possible new "King of the Jews." The Jewish mourning period does nothing to help Judith and Ethan overcome their loss. They long for another child, but years pass. Judith's health deteriorates, and pain dogs her every move. Still, their love for each other holds them together, despite Ethan's mother's hints that Ethan should divorce Judith to marry a younger wife who can give him sons. Judith's skill at the loom keeps them traveling to Jerusalem to sell her weaving, and it is there that they hear of the new Teacher.
Jesus brings hope, not only for Judith's healing, but also that He will be the Messiah they've hoped for. Then in a dark, bitter moment, they find out that he's the reason their son is dead—and they watch Jesus die. Yet the story doesn't end there, as Carol brings it to a fitting "happily ever after."
Carol's carefully researched details of everyday Jewish life add authenticity to the story. She shows how one Jewish family lived and observed the traditions they had been taught—and how they face the questions that come when Jesus challenges those traditions. Carol gives us a glimpse into what people may have thought of Jesus, from Ethan's tentative hope to his mother's fierce rejection. An Innocent Son is a short book, yet one that gives the reader a lot to think about.
If you enjoy Biblical fiction, you might also enjoy When Jesus Wept by Brock and Bodie Thoene.