Recently, my husband and I started watching a marriage DVD. The second video was about being "friends with benefits." It made me remember some of our favourite activities when we were dating… activities we haven't done in a long time because we've been busy with work, kids and other commitments.
This summer, as our schedule slows down a bit, I'm hoping we can get back to doing some of these fun things together. So here are five of my favourite activities to do with my husband.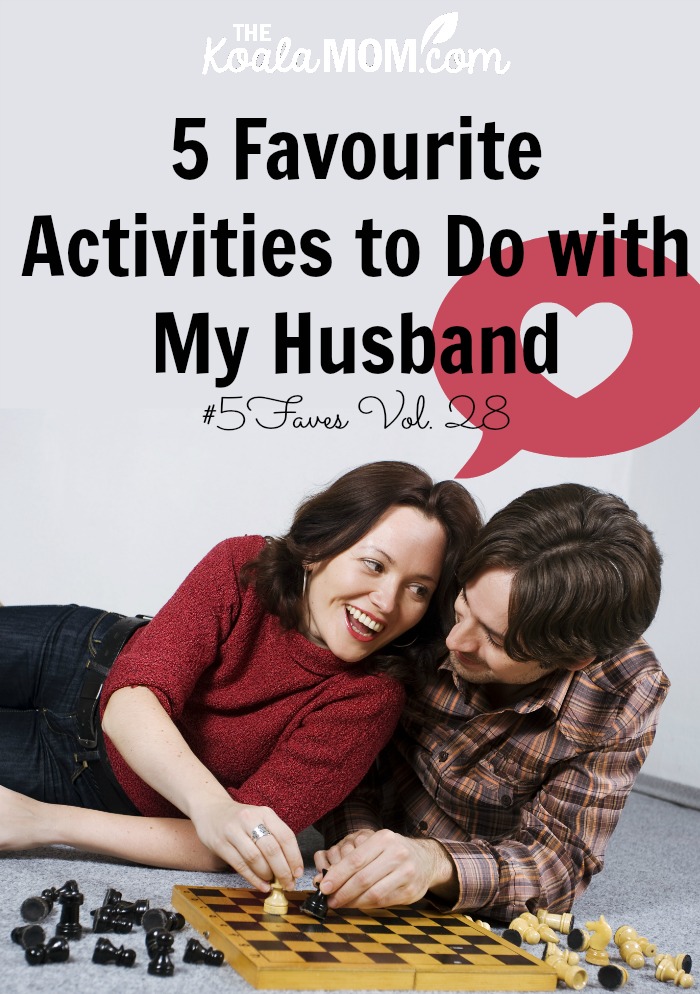 #1: Live Theatre
I was sitting in the university cafeteria in my second year of university when my husband (then just a friend) walked in. He said he'd dropped by the local theatre to pick up some tickets.
"Oh really," I answered as casually as I could managed, thinking about the student subscription I'd bought just the week before. "To what plays?"
He proceeded to tell me about this great student deal he'd found while I smirked knowingly. I finally told him that I had the same package and I'd be seeing him at the theatre every couple of months.
Since then, we've gone to a lot of plays together, both in Alberta and BC. I've found theatre subscriptions are great way to make sure we don't miss any plays we really want to see. We just buy the tickets at the beginning of the year, put it on the calendar, and wait for it to happen.
Now that Pearl is old enough to leave with a sitter (though she'd disagree with me about that), we're looking forward to checking out the Vancouver theatre scene.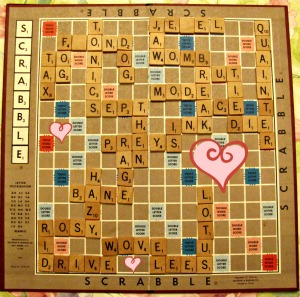 #2: Board Games
When we started dating, my husband taught me to play Scrabble—a game my family never played because it involved words. We still have a lot of fun playing board games together, though it's gotten harder as kids have come along. Some of our games have tiny pieces and got put away for a few years.
Now, as the girls are starting to discover board games themselves, we're pulling them out more often. He and I still enjoy playing together, if we're not too tired to pull out a game after the girls have gone to bed.
#3: Wine and Cheese Tasting
Okay, we don't always do these things together, but we do enjoy both wine and cheese. I think we did our first wine tasting on the honeymoon. We got into cheese in Victoria, when we found a little specialty cheese shop near downtown. I'd pick up my husband after work on Fridays and we'd stop at the cheese shop on the way home.
While we enjoy trying a variety of wines and cheeses, we do have different tastes here; he prefers white wine and sharp cheeses like blue or Shropshire, while I prefer red wine and softer cheeses like brie and Camembert. So we keep sampling and talking about what we like. The only problem with this activity is that it can get a little expensive…
#4: Dancing
Growing up, I always wanted to learn how to dance. The opportunity came in university, when the students' organization hosted some dance lessons. That was one of the few occasions I invited my husband out to something before we started dating; he'd come to the first dance class and then missed a couple, so I dropped him a note saying that we were a bit short on guys for the class. He showed up for the next one.
When we started dating, we took two year-long ballroom dance classes together. Then we moved around lots, and it's been harder to find ballroom dance opportunities (especially now that most of our friends are married…).
#5: Museums
Our first date was at a museum, much to my family's wonderment. A museum is still a great place to wander around holding hands together, as the displays give us something to learn and talk about.
Once, we got a babysitter after the girls went to bed and headed down to the Royal BC Museum during their late summer hours. Jade slept in the baby carrier while we wandered the quiet exhibits together. The constantly changing exhibits means you can go back several times a year to see what's new.
So there's my summer bucket list: plan some dates, buy some wine and cheese, and pull out some board games. What are your favourite activities to do with your husband?