With our recent move, I realized just how well-stocked my medicine cabinet is. I lovingly think of it as my arsenal of weapons for dealing with childhood illnesses, aches and pains, and the common cold. Beyond my favourite remedies (like my essential oils and aloe plants), I also rely on several supplements to stay healthy on a day-to-day basis. Here are five of my favourite supplements for moms from Garden of Life.
#1: Plant Iron & Organic Herbs

I've been either pregnant or breastfeeding for most of the past eight years, so I've frequently had low iron. Over my four pregnancies, I've taken a lot of different iron supplements and this one is by far my favourite. Plant Iron & Organic Herbs is a liquid whole food dietary supplement which needs to be kept in the fridge. One 10 ml doze has 60% of your daily iron intake (so you could consult your doctor about increasing that if you need more) as well as Vitamin C, B6 and B12.
I tried the Organic Cranberry-Lime Liquid. The first dose was yummy, the second was okay, and now I try not to taste it while downing it. It doesn't constipate and is easily absorbed. Usually, I have to wait a couple weeks before I start feeling the results of taking an iron supplement. With this supplement, my tiredness eased within a few days.
#2: Vitamin C Spray

Vitamin C helps boost your immune system, so I often turn to it when I feel like I'm coming down with a cold. Vitamin C Organic Spray comes in two tasty flavours: cherry-tangerine or orange-tangerine. I liked both and so did my girls. The spray is refreshingly cool on a sore throat or just a tasty boost in the morning to maintain your immune system.
A few weeks ago, Sunshine came down with the flu. Every time she threw up, I'd give her some water and a spray of Vitamin C. It helped wash the taste out of her mouth but also boosted her immune system, without me worrying about giving her something she was just going to throw up again.
#3: Women's Multi-Vitamin
Like iron, I've been taking a multi-vitamin since I was first pregnant with Sunshine. Standing in the vitamin aisle at the pharmacy is a confusing endeavor. There are so many to chose from and, while I know that my body needs the supplements, I don't know which is best. MyKind Organics Women's Once Daily Multi-Vitamins stand out from the crowd for several reasons. It's an organic, GMO-free, vegan, whole-food multi-vitamin.
I've been working on moving towards a healthier diet for our family. Part of that has been moving away from processed foods and focusing on whole foods. So I appreciate finding a vitamin that is also made from whole foods.
#4: Probiotics
Several friends have mentioned the benefits of probiotics to me. Probiotics are good bacteria that help keep our intestines healthy. Garden of Life's Dr. Formulated Probiotics Once Daily Women's is a unique once-daily capsule that can be kept in the cupboard. It is specifically designed to support a healthy microbiome and women's specific health needs. The probiotics are also vegetarian, gluten free, dairy free (for people who can't get their probiotics in yogurt), and soy free.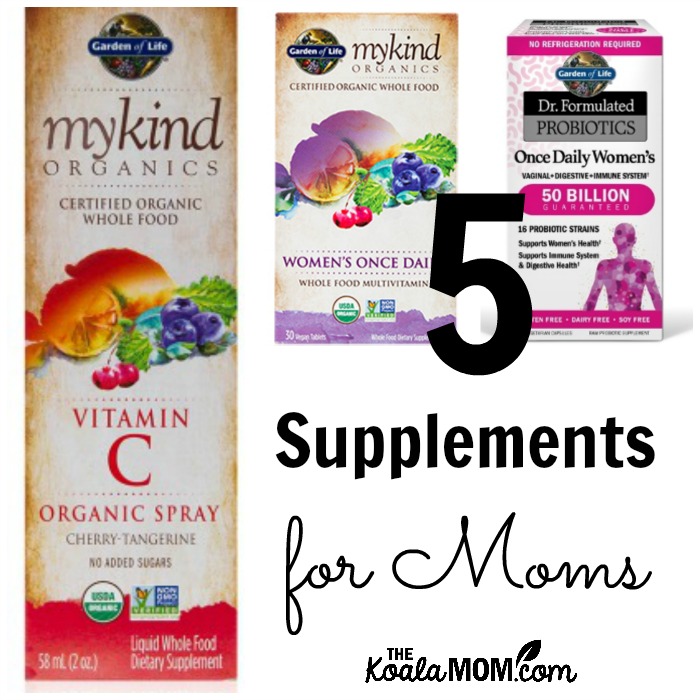 #5: Omega 3s
Garden of Life Oceans Mom is a pure, non-fishy omega-3 supplement. DHA supports heart health, bone health and eye health, as well as emotional well-being. Since we don't usually eat a lot of fish (aside from getting sushi once in a while), this is a great way to make sure that I'm getting the Omega 3s my body needs.