We use a lot of books in our homeschooling, but I've noticed that some concepts need to be taught hands-on. In math especially, the girls respond more readily and learn more quickly when they can count, move, measure, and manipulate something. So when it came to introducing geometric shapes, I was a bit stumped for ideas. Finding a cylinder or a cube around the house is easy; finding pyramids or rhombohedrons is a bit harder.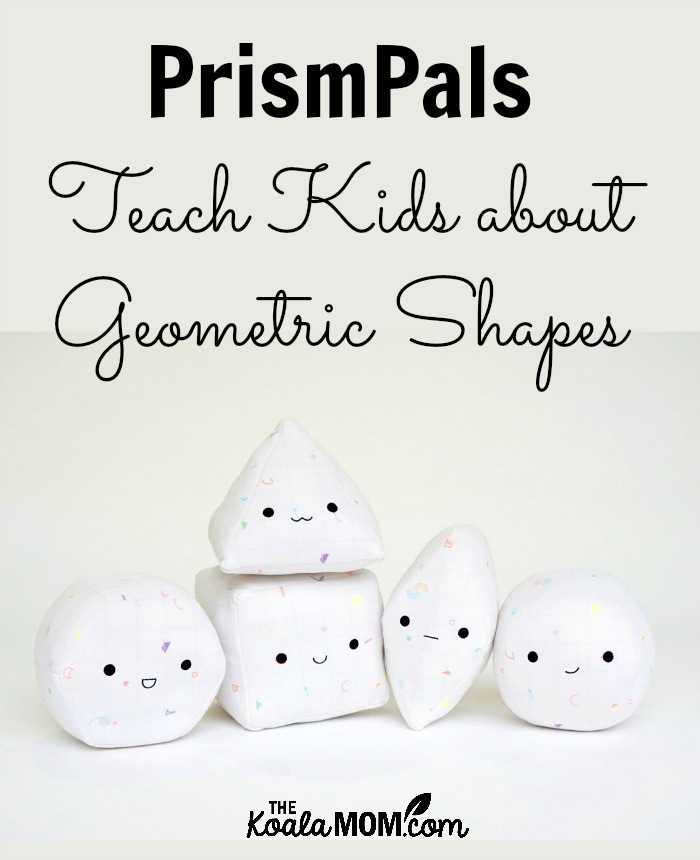 That's where the PrismPals come in. Each of these five soft toys is a different geometric shape, with an adorable little face embroidered on it. The Pals are each accompanied by a little book that tells kids more about the shape, including some fun stories.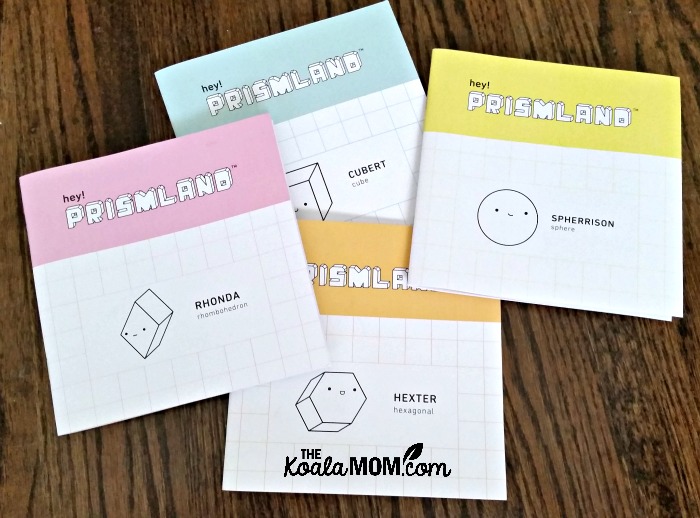 The girls were so excited to play with their PrismPals when they pulled them out of the box. Playing with them and reading the books will help make the shapes an everyday thing, instead of some tough geometric concept. For example, Jade (who turns 3 in March) already knows all of her colours and most 2D shapes, just by playing with her sisters' plastic math shapes.
Giving each shape a name and character also makes it easier to remember what it is. Abstract concepts are tough to grasp, even for adults. The PrismPals turn geometric shapes into a little friend with a smile. What's a hexagon? Oh, that's my friend Hexter who looks like a beehive (even though he's allergic to bees). With cute toys like this, kids will develop positive associations with math and geometry.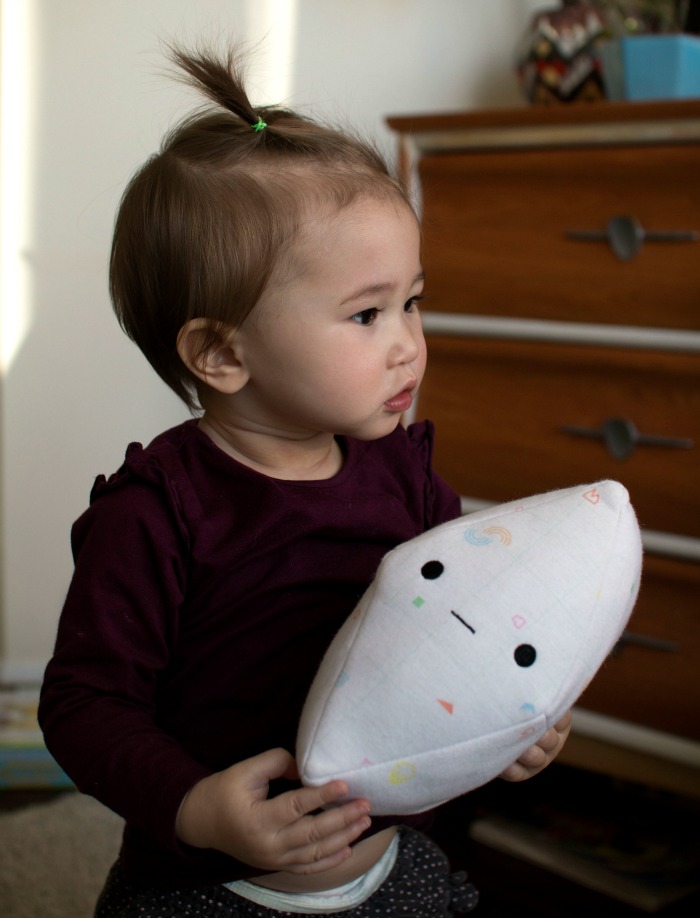 PrismLand was founded by two recent university graduates from Toronto. I was excited to receive the shapes because I helped them promote their successful Kickstarter Campaign last year. It has been fun to hear updates from them about the development of the toys, and to finally see the toys in production. Currently, they are shipping the toys within Canada only (excluding Quebec).
The PrismLand creators have also developed worksheets, activities and other downloads to help parents and teachers introduce their kids to the PrismPals and geometric shapes. Just drop by the website to browse and download, then print. Your kids will have fun drawing, colouring and matching their favourite PrismPals.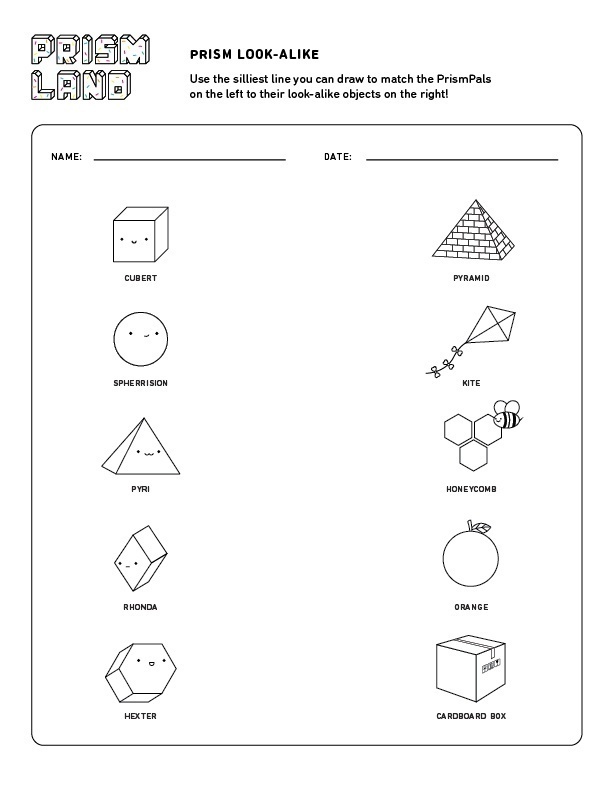 For more information about the PrismPals and to order, check out the PrismLand website. You can order individual Pals or the entire set, plus a sturdy, canvas bag for storing the Pals and their books in. Shipping is just $10 for anywhere in Canada. Right now, you can sign up for PrismMail to get 15% off your first order.
Check out the fun the girls had in unboxing and discovering their PrismPals:
How do you help your kids learn about mathematical concepts and geometric shapes? Would your kids have fun with the PrismPals?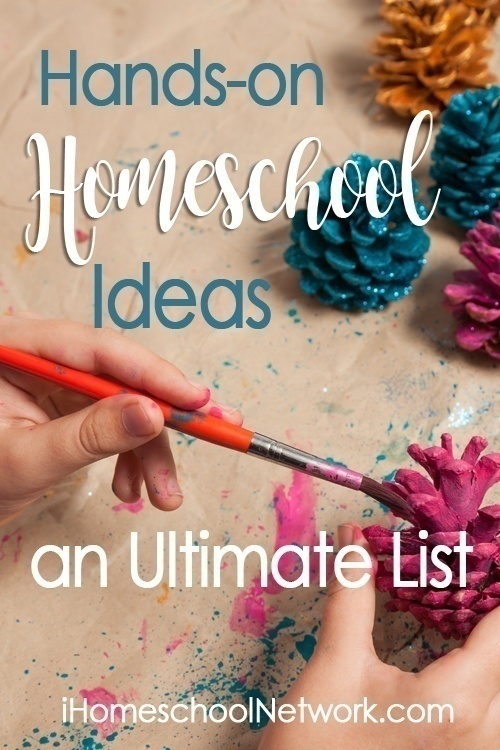 I was provided with a set of PrismPals, books and bag in return for this review; all opinions expressed are my own.