My husband loves surprises. Over the years, we've planned a lot of surprises for each other, from surprise birthday parties to theatre tickets to balloons on trucks. If he knows that I'm planning a date, he often asks, "Is it a surprise?" So one easy way that I can make him happy is to plan for more surprises. Here's a few ideas for how you can surprise your husband.

The Element of Surprise
Part of the excitement of dating is that element of surprise. We're getting to know someone new and it's full of surprises. Once we get married, however, we get to know each other's habits and routines and some of the surprise goes away. Of course, when we were dating, we had a bit more disposable income to plan big surprises for each other, but surprises don't have to be huge.
Christmas is a great time to plan some surprises (start planning! It's only two months away!). Ornaments with Love has some adorable couples ornaments to commemorate a special occasion—or surprise your husband with an ornament that brings back a special memory for you! Last year, I got family ornaments but this year I wanted something just for the two of us.
Shop Customized Ornaments
It was a lot of fun browsing through all the ornaments, from engagement to cruises to pets and more. This one jumped at me first: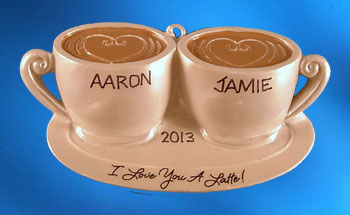 I like lattes; he usually drinks instant coffee. One of the first gifts I got for him was a new coffee mug. He jokes that he's a bad influence on me because he got me into coffee, and I blame my caffeine addiction on the girls. We recently bought a second-hand espresso machine, so I've been having fun making lattes at home—and maybe now I'm a bad influence on him, because he's starting to like good coffee too. 🙂 So this ornament seemed like a fitting surprise.
The other ornament that grabbed my attention was this adorable couple: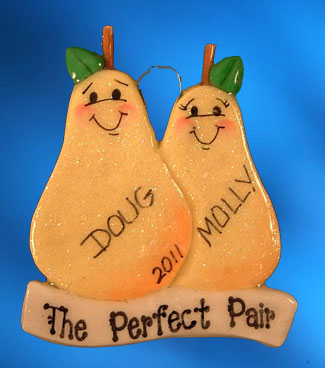 My husband loves puns. He's always coming up with clever word plays. One of my favourite pun-memories is when we were hanging out at a party together. My husband and I and a couple other friends were on one couch facing about four people on another couch. Chatter went back and forth and then my husband made a pun. Half of us started laughing and the others kept chattering—for about a minute, until they stopped in confusion at the laughter. Then they realized he'd made a pun  and they'd missed it. His puns are usually very clever; I've gotten good at catching them because I know him but it's fun to see other's responses to his jokes.
The Best Surprises are Simple
Surprises can be as simple as that; knowing the little things that your spouse likes and then planning something with that knowledge to say "I love you." It could be baking his favourite cookies or cooking his favourite dish for supper; grabbing a little gift at the grocery store or while you're away at a conference; planning some special for Christmas or birthdays; leaving a note in his car or his shirt pocket; or finding the perfect Christmas ornament to declare your love on the Christmas tree.
Now, I can hear some of you saying, "But my husband doesn't like surprises!" Okay; I don't always like it when my husband says, "Get into the truck—I've got a surprise!" I like knowing what's coming, but he really likes surprises so I usually play along (and try to figure it out).
If your husband doesn't like big surprises, you can still surprise your husband in other ways. Put on some makeup when he comes home, just for him. Do something he's been talking about doing but hasn't had time to do yet.
My friend surprised her husband with a cruise vacation, but most of us can't do that. That doesn't mean we can't still infuse that element of mystery and suspense into our relationships that we enjoyed when we were dating. In fact, that's a great way to come up with ideas for surprises now; what things did you do while you were dating that you haven't done in a long time? Surprise him with a walk back through memory lane!
How do you surprise your husband?

I received two personalized Christmas ornaments from Ornaments with Love in exchange for this review; all opinions expressed are my own. Ornaments with Love has quick shipping (about a week, even to Canada) and always sends their ornaments carefully packaged, with extra bags for wrapping ornaments if you're giving them as gifts.