Today, my fellow writer Bobbi Junior is here to share why it is important to respect your husband.

"Who are the flowers from?"
My colleague smiled shyly. "My husband. He does things like that."
I considered the fragrant bouquet that had been delivered to our office that morning. Would my husband ever do that? Not likely. I paused to see if it bothered me. Nope. Not a problem.
Hubby is not a romantic. Rick believes a husband and father will provide, protect and serve his wife and family in basic, practical ways.
Ephesians 5:33 contains an interesting dichotomy. It says husbands are to love their wives, and wives are to respect their husbands. Why the difference? It took me years to understand what advertising companies already know.
Corporations wanting our money do a lot of research to entice us to swipe that credit card.
Consider Mother's Day ads. Flowers, candy, jewelry, perfume, frivolous attire . . . .  Expressions of romantic love ooze everywhere.
Now consider Father's Day. Tools, mowers, trucks, motor oil, barbecues, air-compressors . . . .  Practical and powerful examples of men serving and protecting their families (with big, noisy things. But that's another discussion).
Women are wired for nurturing, men are wired for work.
A time came in my 32 year marriage when I discovered that if I respected Rick's need to care for our family, if I identified his efforts and let him know I appreciated them, our relationship took on a different tone.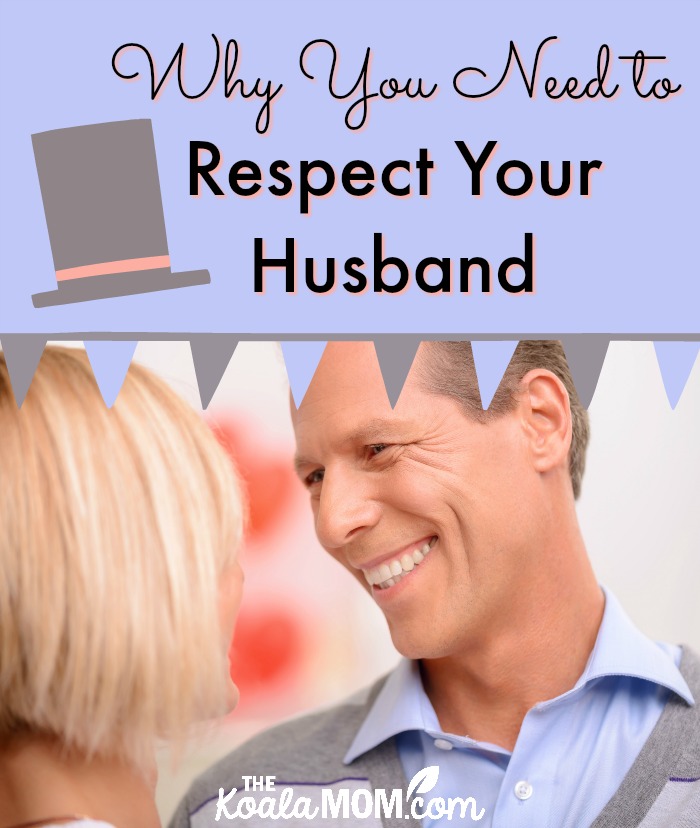 Rick and I like to banter on Facebook.
When he was away for a week, I posted: FACEBOOK STATUS: Rick, you have to come home. I can't open the pickle jar!
Another day I acknowledged his latest discovery.
FACEBOOK STATUS: Hubby has found a site on the net that shows where all the planes on the planet are flying. He's out on the front step with his binoculars, watching for a Russian Aeroflot plane to fly over Edmonton. How cool is that? (You'll notice that planes are big and noisy. Just sayin'.)
Of course, not every husband would appreciate being mentioned on Facebook, but for us, it's fun, and a way for me to acknowledge publicly that I need him, and I find him interesting.
Do you have an okay, but lackluster marriage? Consider this. If your hubby was gone for a month, what family needs might be dropped? Paying the bills? Turning down the thermostat at night? Topping up the windshield washer fluid? Putting the garbage can out for pick-up? Mowing the lawn? Changing the furnace filter? Wrestling with the kids? What about that regular pay check, and someone you can trust to be home every night?
Generally speaking, men are task oriented. Providing and serving in practical ways is often the language they use to love their wives, and receiving recognition for who they are and what they do speaks to them. The simple act of a wife respecting her husband's love language can take a marriage to a new level.
If you decide to try going the respect your husband route, come back and leave a comment. We'd love to know what happens.
For more tips on how to respect your husband, check out The Respect Dare by Nina Roesner.

Bobbi Junior writes and speaks about caregiving, drawing from two life-altering experiences—a devastating accident which left her teenage daughter paralyzed, and her mother's journey with dementia.  Her first book, The Reluctant Caregiver, tells her mother's story, and will be out in December 2014. Bobbi explores caregiving and other topics on her blog at www.bobbijunior.com . She welcomes e-mails and stories of her readers' journeys.