When my husband and I met, during the first days of our first degrees over a decade ago, he was in the seminary discerning a vocation to the Catholic priesthood. Friends have joked that I prayed him right out of the seminary.   While it's true I was attracted to him at our first meeting, I never prayed he would leave the seminary; I prayed only that he would know God's will for his life.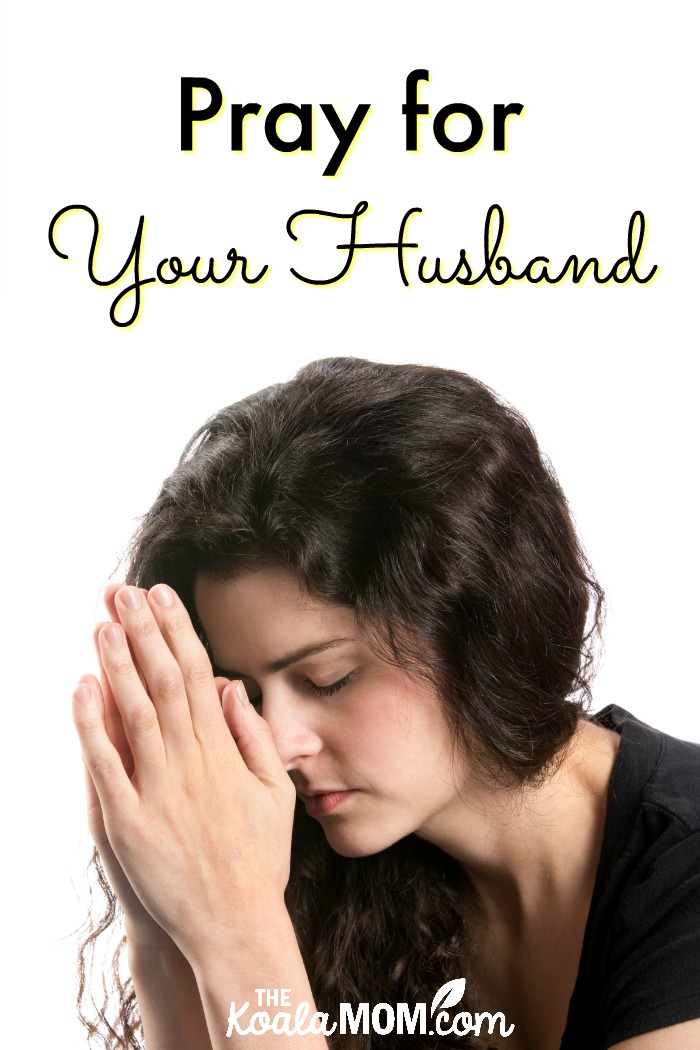 A year and a half later, when he left the seminary, he was wise enough to wait some time before beginning to consider a relationship. During my own time of exploring the Catholic Church, I was grateful for his knowledge about the faith and ability to answer my questions. Now that he is the spiritual head of our family, I am grateful for the various opportunities for formation which he had.
Too often, though, I leave the prayer to him. He's the one who reminds me at the end of the day that we need to pray together. My prayers are usually a quick, "Lord, be with so-and-so" when I hear about a hurting friend. Yet I know he needs my prayers too.
As other wives have mentioned during this series, our husbands work hard jobs. They need our support in many ways, and one way that we can support them while they are at work and we are at home is to lift them up in prayer.
"Praying for your husband changes the way he walks through life." ~ Kathi Lipp, Praying God's Word for Your Husband
My prayer for my husband has always been God's best for him. Over the years, as we've considered various moves and jobs and returning to school, I've prayed God would open the right doors for him and for our family. I've prayed God would lead him—and then trusted God has. When I'm not sure how or what to pray for him, I turn to Kathi Lipp's book Praying God's Word for Your Husband or to the Time-Warp Wife's 31 Prayers for our Husbands.

During the hard times in our marriage, I'll admit I found it very hard to pray for him. Jesus says, "Pray for those who harass you" (Matthew 5:44 CEB) but that's about the last thing I think about when I'm angry with him (so it's probably the first thing I should do). It's really hard to stay angry at someone when you're praying for them. Lipp shares a few barriers to prayer and how to overcome them:
"There is no better, safer place to be in your marriage than in constant conversation with your Maker. I hope you learn to love God better in the midst of your prayers, and from there the abundance of love and peace and justice you are experiencing spills out on your husband."
Now, when we're praying for our husbands, it can often be easy to pray "at" them. "Lord, I wish my husband would learn to take out the garbage" or "Lord, please let him remember to pick up his socks." We want our prayers to effect changes in their lives. And prayer usually does—but maybe not in the way we'd like. Susan suggests looking at your husband as God does:
"When you go to God in prayer for (or at) your husband, you're talking to God about His son, too!  This doesn't mean that you should sugar-coat or 'spiritualize' your prayers.  Again, be straight with God.  He cares about your heart's desires. But He cares about your husband's just as much. You are—both of you—precious to Him." ~ Susan at Wisdom for Wives
If you aren't sure how to pray for your husband, ask him. Try to see from his perspective and consider where he might need prayer today. My husband often asks me to pray as he's leaving for an interview or mentions that he has a big meeting in the afternoon. When I know he's expecting me to pray, I'm much more purposeful about doing it throughout the day. A little text or email to let him know that you're praying can also be encouraging.

How do you pray for your husband?
This post contains affiliate links; as an Amazon Associate, I earn from qualifying purchases.