It's been said that men and women see and hear things differently. Here, Eleanor shares a story about learning to listen, smell and feel from her husband's perspective.
Monsieur said to me, one fine summer day a few weeks ago, "Go into our bedroom and tell me what you notice."
So I went, somewhat excited at the possibility he may have made some progress on our renovation. I looked around. I saw no surprise improvements or new acquisitions, not even his dresser top cleared off. I came out.

"Well?" he asked, smiling.
Now I was really at a loss. With that look of expectation on his face I didn't want to let him down, but…
"Didn't it seem peaceful to you?" he prodded.
I went back in. Nope. Walls blotched by unsanded drywall mud, a bare light-bulb on the ceiling, painted particle-board floor, cat-clawed ragged laundry hamper, and still no headboard-made-from-a-door… No, definitely not peaceful, with all the visual clutter and mental reminders of unfinished projects.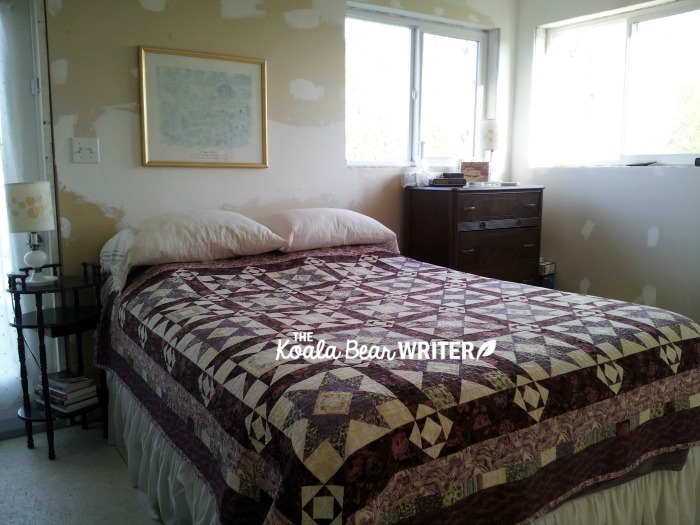 Turns out, he meant the cool breeze and summer smell of hay and wild flowers wafting in through the open window, the country quiet of birds twittering in a nearby tree. All stuff I can't show on a blog.
I realized Monsieur and I have very different perceptions of what makes an adequate home. A few years ago, when he described how much more comfortable our home was than it had been when we first moved here, he spoke of the new furnace that now heated from beneath the floor instead of down from the ceiling. (Somehow previously, the heat had never made it to floor level from above and our legs ached with cold from the knees down that first winter.) He meant the relief of plugging mouse entry holes and cleaning up offensive mouse smells and dirt. And he was so relieved to get rid of a rough-running freezer the previous owners left us – functional but LOUD—something I had barely noticed.
All those non-visual discomforts to me were not nearly so bad as the visual chaos of living for years surrounded in the entire house by bare studs, and exposed insulation, ductwork and plumbing. And most difficult of all for me, the lack of "pretty."
So on that lovely summer day, I went back into our room with my other senses alerted. Yeah, the breeze was refreshing that morning. It was quiet and calm in the countryside. And the quilt I'd made for our bed was satisfyingly finished. Peaceful indeed.
I've sometimes teased my husband that he's less highly evolved than I am since he is more keenly aware of smells and sounds than I, the more visual one. But that day, I made a mental note to pay more attention to the other senses—smells, sounds and touch—in creating a welcoming home for him.

Eleanor lives with her beloved Monsieur in the ranchlands of central Alberta. They have been married for 33 years and have seven grown children – all girls except six. She is seeking an agent for her first novel while she works on a second and blogs at jewelofcontentment.wordpress.com.