Today, my fellow writer Melanie Fischer is here to share a fervent call to wives that is very fitting as we near the end of this series. Read on to find out how to dust off your marriage!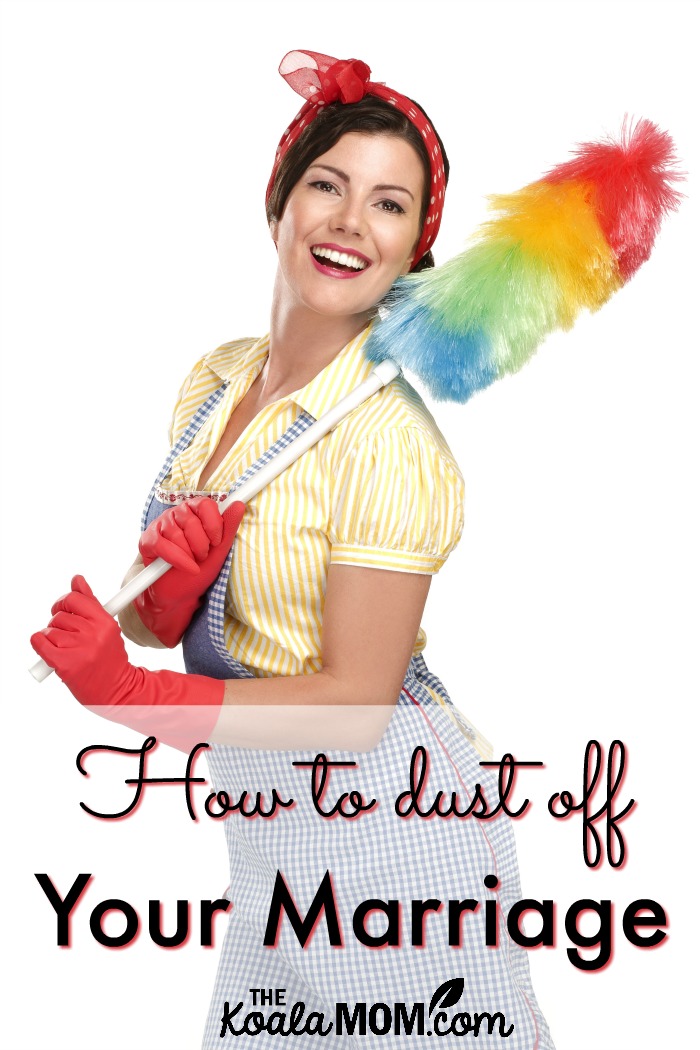 "I do!"
Those words…
Words of promise. Words of excitement. Words inviting a new chapter of life. A chapter of unconditional love. A chapter of unity of two people coming together. A chapter of unending understanding. A chapter of…
…the toilet seat always left up. Dirty clothes left lying beside the laundry basket. Milk left in a cup for days until the stench catches your attention.
The things that used to make us wives "tick" can easily make us ticking time bombs. Has the soft whispers of sweet nothings turned into nails on a chalkboard? Years of marriage can deviously transform into annoyance and monotony if we are not careful.
It takes energy to keep our marriage alive. If we are not intentional in our relationship, it can become a series of actions that has no thought behind it. Like our route to work, out of routine we can arrive at our destination without even knowing how we got there.
Who wants to wake up twenty years into a marriage and wonder how we arrived? We must put effort into our husband's well-being in order to prevent our marriage from going stale. For some reason, we women find it important to dust our furniture, but when it comes to our marriages we can allow the dust to settle on the "man of our dreams."
Dreams into dust bunnies… lust into lint… a chorus of "I love you's" into a list of chores.

I know… we women have a lot on our minds. What to take out for dinner? Who needs to be where and when? How many kids are attending the birthday party? Did the dog's water dish get filled? Did the hair straightener get unplugged? And then we need to find time for our men on top of all this!
We must stay engaged in our marriage, though, if we do not want to sleepwalk through it. (Click to tweet that!) Let your husband know he is important. Revisit the little things that used to make him smile. Transform redundant chores into opportunities to work together. Turn up the music of your marriage so you have no choice but to dance.
If there is not time and effort put into the marriage, once life's dust settles it may be too thick to recognize the love buried beneath it. If there is an inch of dust on your marriage, it is time to pull out your feather duster. Clean up complacency. Buff up the boring. Polish up your passion. Dust off your marriage.
For more inspiration, check out Melanie's Marriage Lessons from the Back of a Harley:
Melanie Fischer has an appetite for sharing the principles of living for purpose which fuels her blog. She is passionate in living her calling and equally passionate in helping others live theirs. Combining her experience and enthusiasm for small businesses, with her calling to write, Melanie is a writer-preneur.