I have a love / hate relationship with crafts and kids' activities. I love watching my girls get excited about a project or activity and spend hours working on it. I hate cleaning up the mess afterwards. I love seeing them explore and be creative together. I hate trying to come up with ideas that will catch their attention—or trying to find all the things necessary for that great idea I did manage to find.
Bayo Bundles is the perfect solution. Sunshine and Lily get a box full of crafts and activities (which are way more fun and creative than anything I could come up with!) and all I have to do is clean up the mess afterwards. (And hey, it was a small mess.)
Remember my interview with Riley of Bayo Bundles last week? After chatting with her, I was super excited to see what would come in our box. We didn't have long to wait! It arrived on Friday, to the girls' great excitement (they LOVE getting parcels). As soon as we got the box into the house, they were tearing into it. Here's what we found: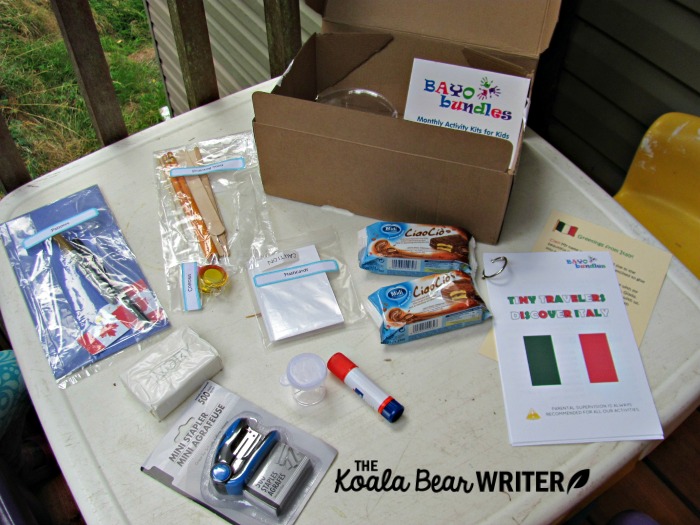 Riley included two of everything so that both Sunshine and Lily could do the craft and activities (awesome!). You can see that EVERYTHING we need is included, right down to a glue stick and stapler (which the girls thought was very cute). We worked our way through the little booklet (pictured on the right), which explained the crafts and activities and told us more about Italy.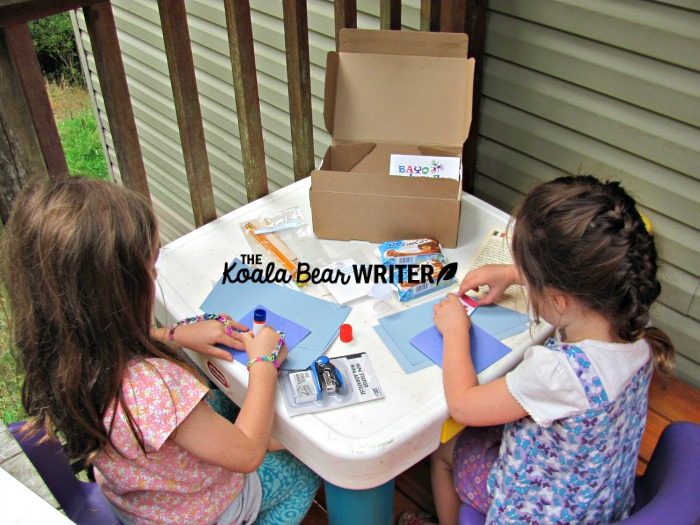 The first craft was a passport, which the girls got to fold, staple, and glue. They were even excited about writing on their passports—they wrote the titles on the cover and their names and birthdates inside. Lately, getting Sunshine to practice writing has been a bit of a struggle, so I was excited that she was having fun with this AND learning something. They even want to add more "stickers" to their passports, so maybe I'll come up with some other countries for us to talk about (like Mexico, which they still talk about visiting).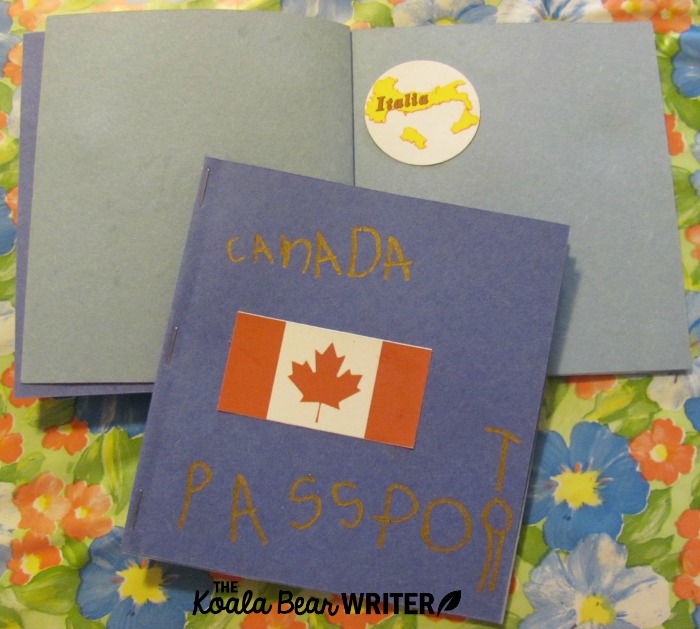 After that, they got to eat their chocolate snack while I read more from the booklet for them, about Italian explorers and artists. We also read a letter from a little boy in Italy. The chocolate must have been very good, because it disappeared fast and I didn't get a taste. The girls were pretty excited to have a snack in the box too; did I mention Riley thought of everything?
The next activity was to build a compass. Riley included two magnets, needles, bowls and foam pieces for the girls to make their own compass. I had just as much fun with this activity as they did, especially when it actually worked! Who knew! We played with this for quite a while, using the magnets to make the needles spin in the water, before they were ready to move on. (The only disappointing thing about the box was that the plastic bowls included were cracked when we got them, so we used our own bowls, but that was no biggie.)
Finally, the girls asked what the bars of soap were for and we got out all the carving tools. We had seen a man carving soap stone on Hornby Island a few weeks ago, so I reminded the girls about that and told them they could carve something just like he had. We'd be using soap because it was soft. They really got into this craft and spent about an hour hacking away at their soap. (This was the messy part; carving soap leaves little bits of soap all over the table and floor.) When their original ideas broke, they came up with new ideas to make out of the pieces. Those little soap carvings are now carefully stored somewhere, and the girls are quite proud of their lumps of soap.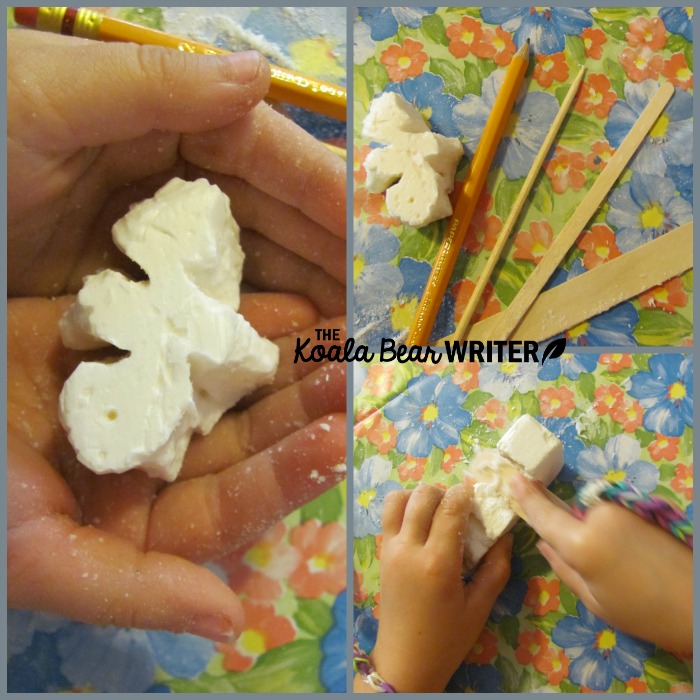 Sunshine and Lily thoroughly enjoyed their Bayo Bundle. As I mentioned, these ideas are going to go beyond the box. It's a perfect idea for a rainy day (and there's lots of those coming up!) or for a quiet activity to keep them busy while Jade naps. You can get a subscription to Bayo Bundles, so that your children get a special package in the mail every month (I love the "sibling add-on" if you have more than one child). There are also single Bayo Bundles available on specific themes, like Thanksgiving.
Now, you can enter to win a Bayo Bundle to try out for yourself!!! (Open to Canada only)
I received this activity box courtesy of Bayo Bundles for the purposes of my review; all opinions expressed are my own. Contest open to residents of Canada over the age of 18. Winner will be chosen randomly using Rafflecopter and notifed via email.