This September, I've been working at getting our family back into some routines for homeschooling and housework. For me, those routines also include taking a look at our health. I'm trying to implement healthy snacks, keep myself and the girls active, and make sure we're taking our vitamins and Omega-3s.
I received the products mentioned in exchange for my review; all opinions expressed are my own.
Garden of Life Omega-3s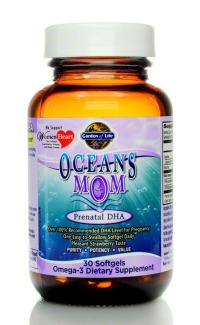 I've heard for years that Omega-3s are important for good brain development. However, I've also heard that they are a bit, well, fishy. And that didn't sound attractive. Then I discovered Garden of Life at BlogHer14. Their Oceans 3 products offer all the benefits of omega 3s—without the fishy taste. Because I'm still breastfeeding Jade, I'm taking Oceans Mom, recommended for women who are pregnant or breastfeeding.
Each little capsule packs a big whack of benefits, providing 100% of the recommended DHA intake for pregnancy. I haven't noticed any burping or fishy taste. DHA supports heart health, bone health and eye health, as well as emotional well-being. If you're pregnant, it's particularly important during the last trimester and first few months of baby's life, when their brains are developing the most. And hey, there are days when I can use all the emotional support I can get. 🙂 Oh, and Oceans Mom is produced using special technology to ensure purity and concentration.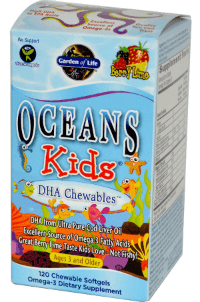 September is often known as the start of cold and flu season because kids are back at school where germs are easily passed around. This year, I'm trying to keep the girls healthy by giving them DHA too. Oceans Kids DHA Chewables is a softgel with a berry flavour that kids can chew—no fishy taste. My girls still didn't like chewing it, so I showed them how to swallow. I like knowing that this little capsule has only Omega 3 fatty acids, DHA, and naturally occuring Vitamins A and D—no sugars or artificial junk.
Garden of Life Multivitamins
I've been taking a multivitamin since my doctor first recommended it when I was pregnant with Sunshine. I like the assurance of knowing that, even if I'm not eating as healthy as I should be, my body (and my baby when I'm pregnant) is still getting the vitamins it needs on a daily basis. Even better, Garden of Life multivitamins are made entirely from real, nutritious whole foods—no synthetic binders or fillers.
Whatever stage of life you're in, Garden of Life has a multivitamin that's perfect for you. I chose the prenatal vitamin once again, because I'm still breastfeeding (and we are planning to have another baby sooner or later), and which has iron and folate as well as ginger and peppermint to help with nausea (brilliant!).
I invite you to check out the Garden of Life website and see what products could help you with your health needs. They have a ton of products, for everything from digestive health to immunity support to weight loss. All Garden of Life products are non-GMO and certified organic. You can also grab a coupon on the website to save money on your favourite products.