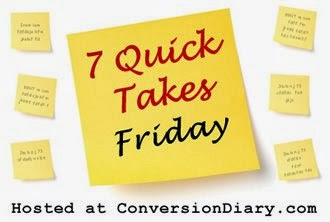 — 1 —
It's beginning to look a lot like Christmas… because it snowed last night!!!  I decided to let Sunshine have a snow day (it was only going to be a half day anyway) rather than venture out into Victoria traffic after a snowfall.  Sunshine was absolutely delighted to go out and play in the snow; she said, "It's the best Christmas ever because it snowed!"  This is a record, because in the four winters we've spent here now, it's only snowed four times.
— 2 —
Lily has been belting out "Jolly Old Saint Nicholas" since the beginning of December.  She can sing the entire song flawlessly (I don't think I could; can you remember what Nellie wants for Christmas?  Hint: it's "lellow blue and wed").  She learned it at preschool for their Christmas concert, and she sang it loud and clear at the concert yesterday.  Last year, the girls' favourite song was "Rudolph the Red-Nosed Reindeer," which Sunshine learned at preschool and taught to Lily.
— 3 —
We have been doing a few Christmas crafts after school.  I found this cute little kit by Creatology and thought it would be easier than doing a real gingerbread house (not sure about that anymore):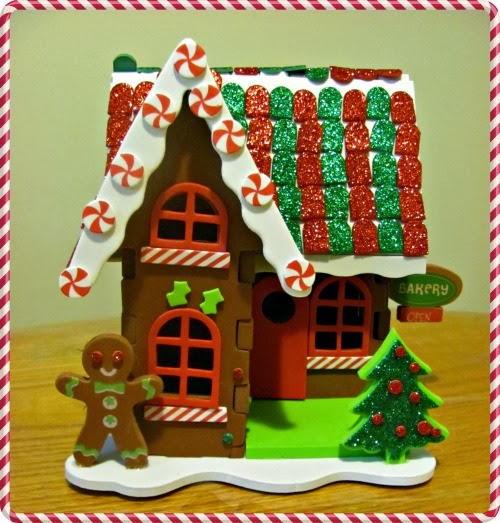 — 4 —
We decided not to put up a Christmas tree this year, because we'll be away visiting family for most of Christmas.  And we really haven't got much space for a Christmas tree.  And we have a 9-month-old baby who has learned to crawl and really likes sparkly things.  So we've strung lights across the bookshelves, hung ornaments up the stair banister, and put a some stickers on the windows.  I actually really like the effect of Christmas all around the house.  All of it is out of Jade's way, but she still points and stares, wide-eyed, at the lights when we turn them on.
— 5 —
Lily has been busy making crafts at school too, like this pine cone Christmas tree which I think is adorable: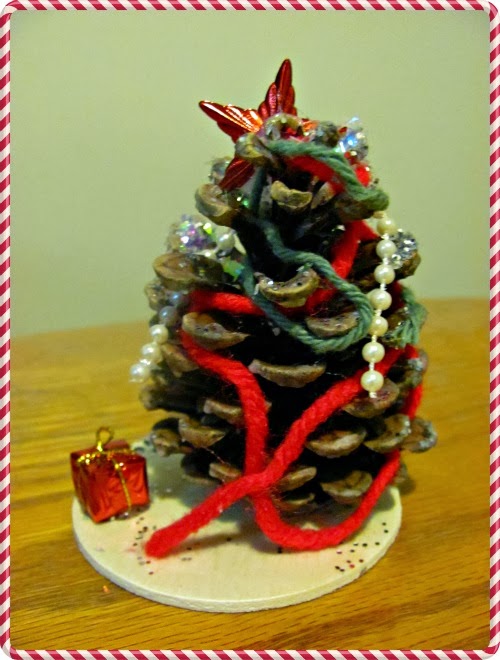 — 6 —
I've been working on our family Photobook for 2013.  Back in 2010, I discovered digital scrapbooks and created one album for the entire year.  The girls loved looking through the pictures and I didn't have to worry about the photos falling out.  It was easy to put the album together on the computer (I could do it a few minutes at a time or spend an hour or more on it if I had that time).  And it was easy to share.  Since then, I've done an album for us for each year.  It's a bit addicting to flip through our pictures from the year and arrange them on the page, then play with the background layout and other things.  And so much fun to reminisce about what we did in 2013.
— 7 —
I'm taking next week off and will be back on the 30th with my Best Books of 2013 list.  Have a very merry Christmas, wherever and however you celebrate it!  I'm also linking up with Christian Mommy Blogger (which is under new management!).