As a mom, I blog to encourage other moms who are walking through this journey with me. Mother's Day is a lovely way to honour moms, but we all know that it often takes a lot of patience, strength and prayer to get through the other 364 days of the year. Motherhood is beautiful and challenging at any stage of the game.
So today, I'm happy to share a post on motherhood from Tricia Goyer as part of the Pearl Girls™ Mother of Pearl Mother's Day blog series.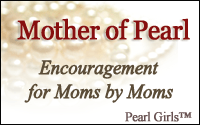 If you are unfamiliar with Pearl Girls™, please visit www.pearlgirls.info, subscribe to their blog, and see what they're all about. In short, they exist to support the work of charities that help women and children in the US and around the globe. Consider purchasing a copy of Mother of Pearl: Luminous Lessons and Iridescent Faith to help support Pearl Girls™.
To all you MOMS out there, Happy Mother's Day!
History has a Way of Repeating Itself by Tricia Goyer
Forty years ago a single, young woman was about to give birth. She didn't know how she could afford a child without her parents' help. She hadn't talked to her former boyfriend in months. She had no idea how to reach him, how to tell him she was having his child.
This young woman attended church some, yet her dialogue with God was stilted. How could God let this happen to her? What would her life be like now? A baby girl was born, and upon holding her child this young lady knew things would be okay. Perhaps this baby was a gift, not a burden as she supposed.
This woman raised her daughter the best she could, and while she wanted to give her child more than she had . . . history has a way of repeating itself. When the daughter became a young woman, she found herself in the same situation—living at home, pregnant and scared.
The daughter knew she could raise this child. After all, her mom had done it. But what would her life be like? How could God let this happen to her? If you haven't guessed already, I was the daughter born to a single mom and as a teenager became a single mom myself. At age 17, God gave me a son. My boyfriend was out of the picture, and I faced raising a child alone with little education, no money and, maybe according to the world, little hope for my future.
Now if you take this story at face value, I am nothing more than a statistic. According to government research, most daughters of young mothers will be teen mothers themselves. They face lives of hardship, living on welfare for the most part — becoming a burden rather than an asset to society.
Yet, I am not a statistic. Why? Because God doesn't do them.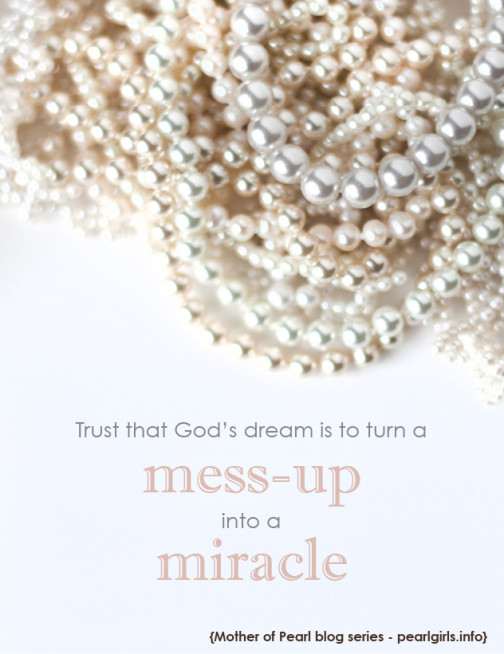 As a 17-year-old pregnant teenager, I prayed a simple prayer: "God, I have messed up my life big time. If you can do anything with it, please do." I dedicated my life and my heart to him and things changed. I had hope in my heart and I started walking God's way. God brought an amazing, Christian man into my life. John was a wonderful husband and a father to my son. When we had a daughter and another one on the way, God did something else unexpected. He gave me the desire to write books.
This Mother's Day, my heart is filled with thanksgiving. I'm thankful for my mother who chose life for me. I'm thankful that when I questioned my future, God gave me hope.
History has a way of repeating itself in families, but even more important that our history of mess-ups is God's history of setting things right. God has a history of seeing something no one else does . . . like seeing a king in a shepherd boy named David, an apostle in a young zealot named Paul, and a mighty warrior in a frightened nobody named Gideon. God's X-ray eyes see right through any outward characteristics or national statistics. His X-ray eyes scan down to the heart.
Where have you felt you've fallen short of God's perfect plan? Trust that God's dream is to turn a mess-up into a miracle. He's a BIG God with BIG dreams. A God who has made an agreement with us that is eternal, final, and sealed. A God who is strong in our weakness. A God who sees the future, sees the past and has a perfect plan for me . . . and for you. It's something we can all be thankful for.
Tricia Goyer is a busy mom of six, grandmother of two, and wife to John. Somewhere around the hustle and bustle of family life, she manages to find the time to write fictional tales delighting and entertaining readers (such as her recent release Love Finds You in Glacier Bay) and nonfiction titles offering encouragement and hope (including Praying for Your Future Husband and Blue Like Play Dough).
Tricia is also on the blogging team at Mom Life Today, The Better Mom and other homeschooling and Christian sites. In addition to her roles as mom, wife and author, Tricia volunteers around her community and mentors teen moms. Along with a group of friends, she recently launched Not Quite Amish Living, sharing ideas about simplifying life. She also hosts the weekly radio podcast, Living Inspired. Learn more about Tricia at her website.