Ocieanna Fleiss is a wife, mom of four, editor, speaker, and the author of three books (along with Tricia Goyer) in the Love Finds You series, including her latest release, Love Finds You in Glacier Bay, Alaska.  She is active with MOPS. Currently, she's working on a nonfiction book about her recent cardiac arrest called Loving Your Kids Like There's No Tomorrow.  As part of the launch team for LFYIGB, I was delighted to have the chance to ask Ocieanna some questions…

TKM: How did you become a writer?
Ocieanna: Stories rattled around in my mind ever since I was a little girl. I remember writing a funny story in third grade. I read it aloud to the class, and everyone laughed. I was hooked!
As an adult, I started writing about fourteen years ago. I thought I knew what I was doing, but quickly learned I had much to learn. It's been an exciting, heart-wrenching, fun, depressing, and arduous journey—but I wouldn't change it. I've learned so much, not just about writing, but about myself and a serving the Lord.
TKM: What inspires you to write?
Ocieanna: Grace. I've struggled with a works-based faith, so my passion is sharing, in any and every way I can, the truth that God loves His children not based on what we do, but based on what Christ did. Nothing inspires me more than that.
TKM: Who is your favorite author and why?
Ocieanna: I'm mostly drawn to the classics. I read contemporary authors, but tend always to drift back to the past. Right now I'm reading David Copperfield by Charles Dickens. He's such a master at crafting characters, at showing not telling, at detailed, multi-sensory description, and at plot. He's my favorite right now. I'll probably change my mind though.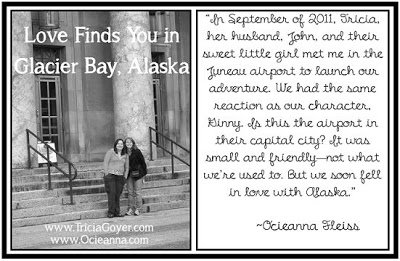 For more about Ocieanna Fleiss or her books, drop by her website.  You can also find Ocieanna on Facebook and Twitter.  Ocieanna is also one of the contributors of the Seriously Write blog with her Ask O Wednesdays column (check out her recent column to find out what she has to say about writing an epistolary novel).