Five years ago today, I walked into a church wearing a white dress, looking for the guy I'd had a crush on for the past five years.  Yes, I was ready for our wedding before he was. He was ready to start dating before I was, though. That's part of our love story…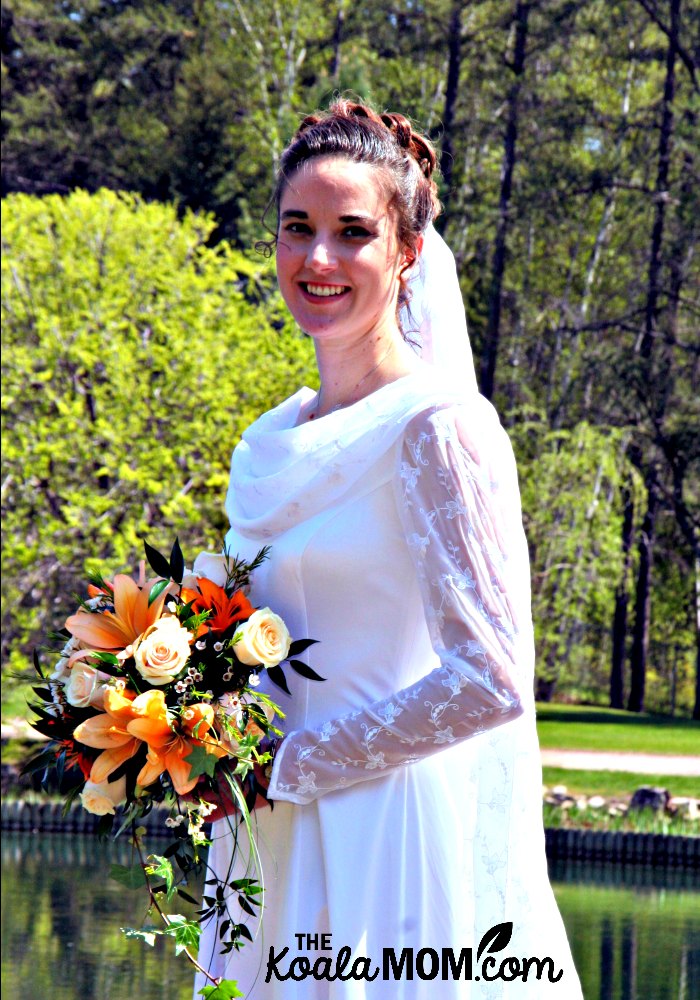 For my first class at university—Religion 150, a required course at the small Lutheran university I attended—I picked a seat halfway to the back, in the middle of the room.  As I sat there waiting for class to start, I watched the other students file in and hoped hoped hoped that some of them would soon become my friends.
A guy on the right side of the room, towards the front, caught my eye.  He had curly black hair and a full beard (rare among the other 18-year-old guys at uni) and a khaki rucksack over his shoulder, with a battered green thermos sticking out of the corner.
I was eighteen years old.  Shy.  Uncertain.  Trying to navigate the "huge" university campus and feeling very alone in the "crowds" of students.  (There's a reason I picked a small university.)  On the second day of Religion 150, I noticed that the bearded guy was now sitting in front of me.
After class, he turned around to talk to me, further earning my respect.  (I was too shy to start a conversation with anyone.)  He'd noticed the cross around my neck—a copper medallion with a Jerusalem cross I'd received when I was confirmed four years earlier in a Lutheran church.  He mentioned he was Catholic.
A few days later, as I sat in the Glass Lounge reading between classes, he came and joined me.  We chatted about the paper we had to write for Religion 150—ours was the only class that had to write a paper and, since it was my first university paper, I was a bit stressed.  I had a vague idea of what I wanted to say, and talking with him helped me form a more concrete idea.
I soon made friends with two other girls in our Religion 150 class (who also had other classes with me) and often studied with them.  One of the girls rode to uni with her dad, just like I did, so we'd read in the Glass Lounge or study in the library until our class started at 11:00.  This guy soon found our library study spot and began joining us after his class.  Studying turned into teasing and talking and debates about our faith.
One afternoon, our Religion 150 class got cancelled.  A bunch of us joked about going to a movie instead.  When the day came, however, one after another backed out, saying they had to study or write papers.  That left just my guy friend and me.  We drove his truck over to the local dollar theatre to see Peter Pan and he spent the entire movie teasing me about kissing.  I knew he liked me.  I knew I liked him.  But neither of us was ready to start dating, so we tried to hide it.
In second year, we ended up in Canadian Literature together.  I thought it was by accident; I later found out he'd planned it, since he had to take another English class and I was an English major.  He encouraged me to speak up in class and I started to contribute more to class discussions.  We continued to hang out after class, and continued to tell our friends we were "just friends."  Some days, his teasing drove me nuts and I was really glad we were "just friends."
In third year, he transferred to another university.  A couple times a semester, he'd call me up and we'd go out for coffee.  We also had subscriptions to the local theatre; I'd show up with a girlfriend and he would too.  I found myself jealous of those girls, wondering if he was finally dating someone or if they were also "just friends" with him, like I was.
At the end of my third year of university, I decided to go to Australia.  When he called me for a coffee date, I said I was planning my trip and had no time to go out.  He insisted.  I told him I had an hour on this day and I could meet him here.  He said he'd be there.  I wondered a bit at his insistence to see me, but I was preoccupied with my upcoming adventure.
Halfway through my trip, I sent him a one-line email asking a question about football—some American tourists I'd met had never heard of the Saskatchewan Roughriders or Edmonton Eskimos.  He answered my email, I answered his, etc.
In Alice Springs, I was lonely and looking forward to my days off when I could walk to the library and check for emails from home.  I laughed over every email from this guy, and then deleted them—trying not to encourage my crush, since he was still "just a friend."  In one email, he said  he should take me to a football game when I got back, since I knew nothing about football.  Oh, and did I want to split a 6-pack of theatre tickets with him?  (Neither of us had renewed our subscription because we didn't like the new lineup of plays.)  I said yes.  Then I freaked out—I'd just agreed to four dates with a guy who was "just a friend."  Uh huh.
He called me two days after I got home from Australia.  We went out for coffee that week.  Then the next week.  I stood in the pouring rain to watch him play rugby.  We saw a football game.  A few plays.  A few movies.  I started attending Mass at a local Catholic Church.
All my friends were smiling when I said I'd gone out with him again.  I was going crazy over whether we were "just friends" or now dating—desperate for him to say something but not wanting to bring it up myself.  Finally, on Remembrance Day, we had a very long date and a very long talk and made it official.
Seven months later, he proposed.  Eleven months later, we got married.  Five years later, we're back in university again and have two little girls and still like going to plays together. And that's how our love story started.
How did you and your husband meet? What's your love story?